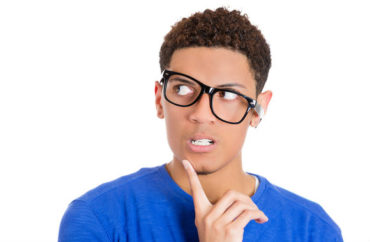 If you can get more student support, that is
Racial segregation has been making a campus comeback thanks to the advocacy of progressives, and Catholic universities are no exception.
Two things make the latest effort at Loyola University Chicago unusual, however. The petition demanding this "community space" simultaneously claims that it will be "reserved for" Latino students and "non-exclusionary," and the university's main objection to it is practical, not ideological.
The Loyola Phoenix reports that the petition by Ana Avendano, internal vice president of the coed Latino fraternity Alpha Psi Lambda, has the theoretical support of Dean of Students Will Rodriguez, who met with her over winter break:
In a statement to The Phoenix from university spokesperson Evangeline Politis on behalf of Rodriguez, she said he thinks community spaces for students help build connections and support their successes, though he noted the university faces some difficulties in securing a space.

"We are challenged by the lack of available space on campus and the many competing needs for more office, programming, and study places," Rodriguez said. "The petition will help gauge the support of the broader Loyola community for such a space."
There's already a segregated space for black students in the Damen Student Center, the building that Rodriguez told Avendano was not available for another segregated space. Members of the Black Cultural Center "can hold meetings, programs and other activities within the space on campus," according to the Phoenix.
Strangely, the student newspaper doesn't link the petition, but Avendano shared it from her Facebook profile.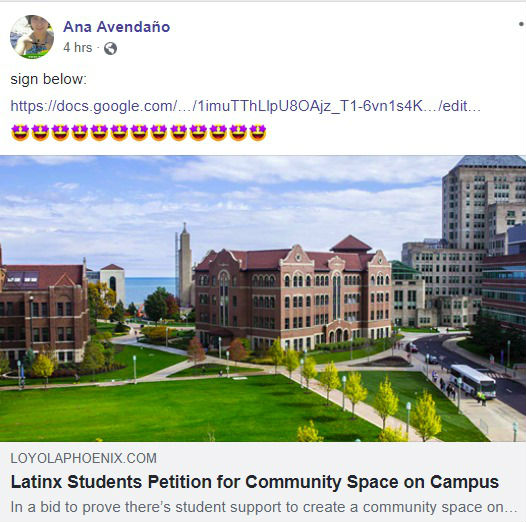 The petition uses the made-up gender-neutral word "Latinx," which is not grammatical in Spanish. While it claims the proposed space will be "non-exclusionary" (possibly to get around Loyola nondiscrimination rules), the rest of the petition makes clear it's intended for Latino usage alone.
Not only would be the space be "reserved for and dedicated to the Latinx identifying student body" – meaning anyone can claim to be Latino and use it – but it would serve as a "safe space for minority students in a predominantly white institution."
The space would help these students "be better able to meet and connect with others of their own background," as well as "identify common grievances and advocate for existing resources" on campus.
MORE: Activists attempt to alter the fundamentals of an entire language
Latino students who are new on campus could use the "non-exclusionary" space to "begin to connect with the Loyola community as a whole" – a sort of toe in the water before they dip into the "predominantly white institution." (Reminder to readers: Many Latinos are white.)
It's sponsored by Avendano's fraternity as well as Latina sorority Lambda Theta Alpha, the Latin American Student Association, Puerto Rican Student Association, and the International Socialist Organization.
Giselle Milla, president of both LTA and LASO, also described the proposed space as "dedicated" to Latinos who are now scattered across multiple organizations:
"We're not yet a unified community, and that's what we're looking for, to have a space where even if you are from different organizations, you can still come to this safe space, and can talk to each other and get to know each other, building relationships and networks," Milla said.
As of Friday afternoon, the petition shared online by Avendano had been signed by nearly 60 Loyola community members, all but a couple of them identified as students. (The Phoenix claims the petition has 400 signatures, apparently crediting Avendano as the source.)
Avendano further explained her intentions for the space with the Phoenix, saying it could help students from "predominantly mixed-race high schools" ease into life at Loyola.
The petition organizer shied away from the "non-exclusionary" designation on the petition, saying the space would be "open to all Latinx students."
It would serve a narrower population than the office of Student Diversity and Multicultural Affairs, where students often "hang out and do homework." Her space "would be specifically catered to Latinx students and their issues and identities, whereas SDMA is broader":
"I feel like there is a need for a specific space just because you can't throw every identity into one room and say, 'Diversity,'" Avendano said. "I think especially with our political climate and with the issues that Latinx identifying people face, we do need a space that's specific for us."
Sociology Prof. Christian Paredes, whose specialty is Latin-American studies, supports the Latinx-only space as a method to "keep strength in their own cultural ties in order to develop that pride that also contributes to how we understand diversity, especially in a context where we all need to be welcomed."
The College Fix has asked the administration for comment on whether the "non-exclusionary" designation is required to stay in compliance with Loyola nondiscrimination policy, and whether it really supports creation of a Latino-only space, as Avendano and the petition otherwise describe it.
Read the petition and Phoenix story.
MORE: Loyola Chicago renews whites-only program
IMAGES: pathdoc/Shutterstock
Like The College Fix on Facebook / Follow us on Twitter