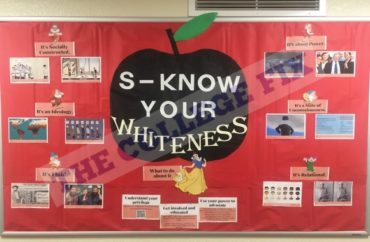 Be an ally – but don't talk
A Catholic university encouraged white students to feel bad about themselves via a bulletin-board display that was officially sanctioned by Residence Life, according to a student.
The display (below) used a Snow White theme to explain "whiteness" and other privileges, according to photos provided by the Santa Clara University student, who asked to remain anonymous.
"S-Know Your Whiteness" was placed in a residence hall Monday but removed by Wednesday. The student told The College Fix in an email the boards "usually stay up for a month or more."
Each section of the board is illustrated with one of the Seven Dwarfs.
One section suggests that whiteness is all about power. It claims white people have to understand and acknowledge "the amount of power" their appearance has, and how this "can lead to utilizing that power for the greater good."
Another part of the board claims that it's a "State of Unconsciousness" and suggests "whiteness is often invisible to 'white' people, perpetuating inequalities."
"Understanding our privilege is the first step to addressing the problem which will improve everyone's quality of life," the section reads. In the same area it displays a list of boxes to check your privilege if you are white, male, Christian, able-bodied, heterosexual or cisgender.
MORE: Yale teaches 'counternarratives around whiteness'
The opposite side of the board shows an image of several types of people. The white male has a green check mark, but a red X mark for a black man, a Muslim woman and person in a wheelchair.
Whiteness is "an Ideology" built on attitudes and beliefs, resulting "in the unequal distribution and privilege based on skin color," the board continues.
Next to a cutout of Snow White, the board explains "What to do about it": White people must understand their privilege, use their power to advocate, and become involved and educated, according to the board.
It links to whiteness-related resources from the University of Calgary and Harvard; recommends various groups, courses and departments; and recommends white people be "an ally at movements and events BUT don't speak over others":
Call out racism and microaggressions. Don't stay silent; share your stories. Be comfortable with your own identity and your place in a conformist society.
Board quickly replaced with 'world change' ideas
The Santa Clara student told The Fix that each resident adviser – known as a "community facilitator" at SCU – "chooses the topic of their board" and the hall's resident director reviews it before allowing it to be posted.
In this case, the hall is McLaughlin-Walsh and the resident director is Omar Harb Michel, according to the student. Michel did not answer phone or email queries from The Fix Wednesday. The student who contacted The Fix doesn't live in McLaughlin-Walsh and doesn't know which community facilitator was responsible for posting the board, or which theme preceded the whiteness display.
Each residence hall has its own community theme, and McLaughlin-Walsh's is the diversity-themed "Unity." It houses 250 first- and second-year students, and in addition to Michel, it has a "spirituality facilitator," faculty director, assistant resident director and six community facilitators.
MORE: Black students say UNC 'whiteness' is 'traumatizing'
"We offer programs and events in a wide range of diversity themed topics such as: Social Justice, Socioeconomic, Sexuality/Gender, Culture/Race, Religion, National Origin and much more," its university page reads.
The student told The Fix that the boards change "a few times every quarter," and are placed "in the hallways among the dorm room doors."
About 12 hours after sending the photos of the whiteness board, the student said that display had been taken down and replaced, "apparently due to student concerns."
The student pointed to a small flyer at the top of the new display (below) that reads "MADE FROM UNITY RESIDENTS' CONCERNS," suggesting that some residents complained about the whiteness display.
MORE: College hosts 'whiteness in decline' event
The new board encourages residents to "get informed" in order to cause "world change." Its causes include the plight of undocumented immigrant "Dreamers," who need legal protection; the "history of Western domination" in Haiti and the Dominican Republic; and "populist demagogues" such as Philippines President Rodrigo Duterte.
The student told The Fix both the whiteness and "world change" themes are unsurprising at Santa Clara University, given that Democratic presidential nominee Hillary Clinton received 7 in 10 votes in the Silicon Valley county in 2016.
"In that kind of echo chamber, what is considered undeniable fact can venture into the realm of extremism," the student wrote.
SCU also has "posters with instructions on how to be an ally" to students who are undocumented, flyers informing students how to avoid "toxic masculinity," and classes including "Queer Native American Literature," the student told The Fix:
I'm just waiting for university administrations to realize that their product is not marketable; if it were, they wouldn't have to rely so heavily on government endowments.
University spokesperson Deepa Arora declined to speak on the phone with The Fix, asking to answer questions over email. Arora did not respond to multiple email requests Wednesday, however.
MORE: 'Problem of Whiteness' course reintroduced at UW-Madison
Like The College Fix on Facebook / Follow us on Twitter