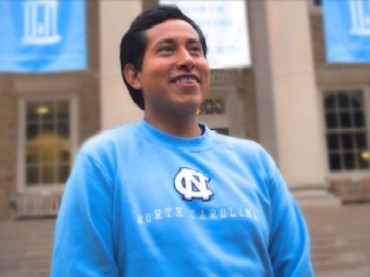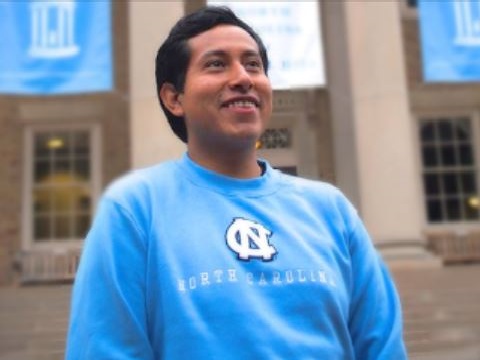 Defeat comes despite high-profile support and national media attention
An undocumented student at the University of North Carolina – Chapel Hill who became a national cause célèbre in recent weeks as a candidate for student body president lost his election bid Tuesday in a landslide defeat.
UNC junior Emilio Vicente, a public policy major who was thrust into the spotlight after publicly acknowledging that he is not a U.S. citizen, lost his bid to represent the students of the public research university by a vote of 4,760 to 2,681, or 62.9 percent to 35.47 percent.
Prior to Tuesday's election, Vicente – who describes himself as a "feminist" – had become the darling of left-leaning celebrities, earning praise and endorsements from the likes of Al Jazeera and actress Eva Longoria, for example.
Some at the school of nearly 30,000 students had heralded Vicente as a symbol against oppression, with one student declaring "he represents the Carolina that is fighting back against the political forces that want to make public education accessible to only … upper class white students."
There were audible gasps as the election results were announced Tuesday night at Carroll Hall, where about 50 students had gathered. The tally represented the electronic votes casts throughout the day on a campus described by some as having a "tense" atmosphere Tuesday.
Observers of the election attribute Vicente's resounding defeat to several factors, including the observation that his rise to fame had turned him into a media hound who sought publicity over pushing a strong platform.
Many students have suggested his platform, which he publicly described as "organic and evolving," was never strong to behind with.
Moreover, the national media attention may have had a backlash against Vicente's campaign, with some students saying they were "tired of hearing about it all the time."
Underscoring all this, Vicente's own platform writer, Ishmael Bishop, publicly denounced his support for Vicente one day before the election, saying in a Facebook post that "working very closely with Emilio's campaign, I know that he is NOT a transparent character. It is quite clear to me that ultimately Emilio lacks the competence and tact for representing a diverse Carolina for everyone."
Vicente responded, and both comments went viral.
The full text of Bishop's original post, for example, was reposted on the Carolina Review Daily website, a conservative publication on campus, and was read more than 12,000 times Monday and Tuesday, with most of that web traffic coming from Facebook.
In the end, students opted for junior Andrew Powell, a popular white, male student described by some students on campus as strident and rational, with a strong vision for moving the scandal-ridden campus forward.
At the election viewing party, Powell's supporters cheered and clapped for their candidate's victory.
Powell's platform included a pledge to stop any more tuition increases and serve the campus with integrity during one of its most problematic times, as the school is embroiled in a scandal regarding the school's admission that it has allowed some student athletes to enroll in fake classes.
College Fix contributor Ben Smith is a student at UNC Chapel Hill.
IMAGE: Facebook screenshot
Like The College Fix on Facebook / Follow us on Twitter