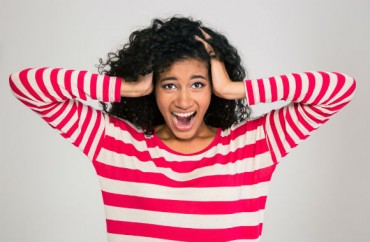 Ignore the university's own policies or you're a racist
In an unexpected rebuke to race activists at the University of Kansas, Chancellor Bernadette Gray-Little is putting the kibosh on a "multicultural student government" (MSG) approved by the Student Senate in March.
The proposed deliberative body, which has already been provisioned $90,000 to get started, could "lead to greater divisiveness" and would run afoul of the university's codes and state law, Gray-Little said in a Wednesday letter to incoming Student Body President Stephonn Alcorn and Vice President Gabby Naylor.
The Lawrence Journal-World reported that MSG's interim leaders received copies of Gray-Little's letter just hours before a scheduled public forum to introduce the body to the university community.
The MSG, which remains an ordinary student club, ignored the chancellor's rationale for halting the new body in a Change.org petition asking for its funding to be reinstated.
This. Shameful. #DoBetterKU pic.twitter.com/fqJ0CIJxKn

— Trinity Carpenter (@Trinsetta54) May 5, 2016
"We are important. We matter," the petition reads. "We deserve to be part of the decision-making, including but not limited to determining the allocation of resources."
The co-chair of KU's Diversity, Equity and Inclusion Advisory Group also implied that the chancellor, who is black, showed racism by halting the MSG.
'This is not a two-week process'
In an email, university spokesperson Joe Monaco told The College Fix that Gray-Little would strike the $2-per-semester student fee from a larger fee package approved by the Student Senate for the 2016–17 school year.
Before it reached Gray-Little, the MSG fee had to clear the previous student body president, Jessie Pringle.
Jameelah Jones speaks the reasons for a multi-cultural student gov. @KansanNews @KUSenate @KU_OMA #ku #kuss pic.twitter.com/GjVzlE4wTB

— Alex Robinson (@arobinsonfilm) March 10, 2016
The Student Senate initially approved the MSG during an hourslong meeting that drew race activists from the nearby University of Missouri, who heckled senators and threatened to retaliate against them if they didn't approve the bill.
Reps from MU ask question to Chief of Staff Adam Moon. @KansanNews @KUSenate #kuss #ku @KU_OMA pic.twitter.com/7DXRkVG7Hb

— Alex Robinson (@arobinsonfilm) March 10, 2016
On March 30, the Student Senate preemptively gave MSG complete control of the Multicultural Education Fund and doubled the seats on the campus fee review subcommittee to give the MSG equal representation, according to the Journal-World.
Student leaders got their first rude awakening last month, when University Senate President Mike Williams said the new body would likely be unworkable, according to the Journal-World.
RELATED: Student leaders buy off race activists with $90,000 for their own 'multicultural' government
"My interpretation is that the way the code preamble reads, it speaks to one student senate," Williams said: The senate's code would need to be amended to authorize the MSG.
"If we follow the code, which we're obligated to do … this is not a two-week process," Williams said. "In a perfect world we might get it done in two semesters."
'May lead to greater divisiveness'
Gray-Little poured more cold water on student leaders in her Wednesday letter, telling them they can't evade the rules with a single legislative maneuver.
"[T]here is no official internal recognition of a separate, parallel multicultural student government," Gray-Little said.
When your chancellor vetoes a bill to implement a Multicultural Student Government……and she's a black woman. ?

— a bbw. (@_ninabynature) May 5, 2016
She cited an April 15 letter by Williams to the MSG's members, saying that the university prohibited "multiple independent groups" from "representing a constituent group … within University Senate." (Williams did not immediately respond to a Fix request for a copy of that letter.)
"Finally, I believe that the independent student government proposed … is not an optimal way to achieve the goals we have for diversity and inclusion at the university and, indeed, may lead to greater divisiveness," Gray-Little wrote.
Trinity Carpenter, a KU student and interim MSG secretary, told the Journal-World that MSG would continue to press for funding to achieve "shoulder to shoulder" governance with the Student Senate.
Your rules are 'institutional racism'
The MSG online petition implies that Gray-Little halted the body out of personal preference.
"This government is a vital resource that marginalized students are requesting due to not being included or served by the current Student Senate," and the advisory group supports it, but "in spite of this recommendation, the Chancellor feels differently," it reads. "Our Chancellor has chosen to remove her support" for the student fee.
[email protected]: Reinstate Institutional Funding and Support for KU Multicultural Student Governmen… https://t.co/8wxGcLVCBs via @Change

— Trinity Carpenter (@Trinsetta54) May 5, 2016
"Please help us send this message to our Institution by signing this petition–we deserve to challenge the current system and promote the voices and successes of marginalized students," the petition said.
Clarence Lang, the chair of the Department of African & African-American Studies and advisory group co-chair, went even further.
He said the chancellor's actions represented  "institutional racism" even though Gray-Little "fully recognizes" the inequalities of student governance, according to the University Daily Kansan.
"This is not what you do at an institution … speaking personally, I'm tired of people coming up with all sort of objections about code, about policies, to get in the way of doing things that are right," Lang said.
Members of the Student Senate could not be immediately reached for comment.
RELATED: Mizzou officials are so sick of black student activists they start hiding from them
Like The College Fix on Facebook / Follow us on Twitter
IMAGE: Dean Drobot/Shutterstock