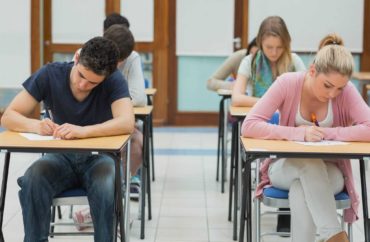 When colleges shifted en masse to online courses in 2020, they may have mitigated COVID risk, but unintended consequences loomed large. Heightened loneliness and mental illness, missed learning opportunities, and the likely rise of cheating are among the costs still being charted by researchers.
Given high vaccination rates, frequent testing and overall low risk of serious illness, colleges should reinstate in-person or hybrid courses as the norm, not least because they promote academic integrity. Quite simply, remote learning, especially virtual, at-home exams, facilitate and incentivize dishonestly.
Online coursework existed prior to COVID, but the pandemic massively expanded its scope and scale. A June 2021 study published by the National Center for Education Statistics, the statistical center of the U.S. Department of Education, found that 84 percent of all American undergraduate college students had some or all classes shifted to online-only instruction during the pandemic.
The change caused a spike in allegations of academic cheating. Back in August 2021, an NPR article titled "Reports of Cheating at College Soar During the Pandemic" described how students' increased access to smartphones and other technology facilitated new ways to cut corners. Students shared answers through group chat and other "unauthorized collaboration." Some used unethically replicated or unauthorized materials, such as third-party study sites, to complete open book exams.
The article profiled a Columbia University professor who "has tried everything to keep her students from cheating." She gave students in her cognitive neuroscience class a week to complete an open-book exam and required students to sign an honor code; still, they overwhelmingly relied on answers that were not their own.
The article stated that reports of cheating or academic misconduct had doubled at least since the onset of remote learning at three universities surveyed: Virginia Commonwealth University, University of Georgia, and The Ohio State University.
Some students quoted in the article put part of the blame on reduced access to tutoring services and other academic resources. Still, it seems obvious that ease of cheating on unsupervised exams in the digital era outweighed any honest challenges. Moreover, the difficulties students faced in studying likely further incentivized dishonesty when assessment time arrived.
The Yale Daily News reported April 5 that an anthropology professor referred 81 students — more than half the class — from an introductory course she taught last semester to the university's executive committee for academic dishonesty.
Professor Jessica Thompson had identified a range of cases of possible cheating in the students' exam responses, including "direct copy-pasting of a class reading" and "truly egregious" copying of entire paragraphs from internet sources.
Those 81 students, the article states, alone made up a larger group than the university-wide total for executive committee academic dishonesty cases decided on in all of 2020, according to public reports.
More evidence of wide-scale cheating mounts elsewhere. In a December 2021 study published in the open-access journal Computers and Education, "Cheating in the wake of COVID-19: How dangerous is ad-hoc online testing for academic integrity?" researchers questioned more than 1600 German university students in summer 2020. The students reported having "cheated more often during online than during in-site examinations."
The study's authors concluded:
"The imposed pressure on the education system also put a strain on academic integrity. We found high rates of self-admitted academic dishonesty reported by students for the summer semester of 2020. Moreover, the rate of cheating in exams during this time depended on the examination mode, with online exams being more prone to the use of unpermitted assistance than on-site exams."
The study also surmised that "from the students' perspective, the anticipation of less accountability for cheating in combination with difficulties to prepare for the online exams (e.g., due to new family and community obligations emerging during COVID-19, unfamiliarity with new exam formats, or a lack of necessary self-regulated learning skills), might have increased the appeal to cheat in online exams."
With diminished accountability, the ubiquity of fact-finding technology, and massive groups of individual students completing similar assessments alone at home, the incentives and opportunities for cheating exploded during the pandemic.
If the full picture of academic dishonesty could be revealed, it would likely be a national scandal. It's time for students to return to the exam room, where instructors can demand that they put their phones away and test with integrity.
MORE: West Point concludes investigation into largest cheating scandal in four decades
IMAGE: Facebook
Like The College Fix on Facebook / Follow us on Twitter