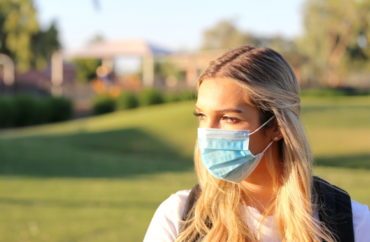 ANALYSIS: Students no longer know how to relate to one another face to face
College students are isolated.
A Harvard study from last year found 61 percent of young adults ages 18 to 25 feel "serious loneliness," with 43 percent of these respondents reporting increases since the pandemic. The Healthy Minds Study, which surveyed students at 36 schools during fall 2020, also found 66 percent felt isolated from others.
Every month or so, I see a new post on my university Reddit board from a student, who has nowhere else to turn, asking how to make friends. The college subreddit is flooded with these too, with posts almost daily. The stories are depressingly similar:
"Ever since then and Covid, I've found it nearly impossible to forge any true friendships with anyone in my course. I tried societies, clubbing, drinking and the most I've gotten was small talk and an exchange of socials or numbers where our conversation would eventually lead to nowhere. I'd have lots of acquaintances but just not friends." – u/illestheartbreaker

"Halfway through my freshman year everyone was kicked off campus and put online due to the pandemic. But I didn't start having in-person classes again until the beginning of my junior year. Because of this, I feel like I really missed out on opportunities to make genuine friends." – u/bustcos789

"Covid really changed how people interact with each other, especially because I live in one of the biggest cities in the US. I'm not anti covid restrictions. I believe the scientists, I'm vaxxed and boosted, and I want to do whatever gets this to end, but I do feel like commenting on how it's affecting us socially is important and we need to work to repair it when all of this is eventually over." – u/[deleted]
Students no longer know how to relate to one another face to face, a consequence due in part to COVID restrictions and in part to today's polarized environment. Writing for The Wall Street Journal, Julie Jargon observes how students aren't interacting.
"They lost the skill to have small talk," one lecturer quoted in the article said.
It's not limited to younger students. One non-traditional 43-year-old student said she simply attended class and left, not forming any relationships. She explains, "Everyone had their masks on and you didn't know anyone's comfort level."
So, worried what our peers may think, we hide our faces and our thoughts. Habitual mask-wearing is just a physical reminder of an issue that has been quietly chipping away at the morale of students for years — a lack of deep relationships.
It's no wonder. Real relationships require some level of openness. Openness becomes socially risky when campus culture is gripped by a progressive ideology that won't tolerate dissent. As University of Virginia senior Emma Camp shared in a recent New York Times op-ed, self-censorship on college campuses is real.
The smallest misstep can ostracize you from your peers.
Ironically, the very isolation that COVID restrictions exacerbated makes us increasingly susceptible to the kind of social control that was necessary to maintain them. It makes us less likely to risk disagreeing.
CS Lewis, in "The Four Loves," writes that authoritarian control becomes easier when men lack true friends:
"Men who have real Friends are less easy to manage or 'get at'; harder for good Authorities to correct or for bad Authorities to corrupt. Hence if our masters, by force or by propaganda about 'Togetherness' or by unobtrusively making privacy and unplanned leisure impossible, ever succeed in producing a world where all are Companions and none are Friends, they will have removed certain dangers, and will also have taken from us what is almost our strongest safeguard against complete servitude."
This aptly describes the situation students find themselves in; lots of talk about togetherness that is really a facade for conformity. You must agree—or become an outcast.
We'll pretend to be brave and vocal, but only about approved causes. It's why we latch onto every passing social movement and social media trend—from posting a black square on Instagram, to putting pronouns in bios, and yes, to wearing masks. Students are filling their need for fellowship with "solidarity" and political advocacy.
There is something disingenuous about claiming to care about one another while cutting off friends and family who think differently, lest we forget how many people banned each other from family gatherings and were willing to segregate peers from polite society because of a personal decision to decline a medical procedure.
We must relearn how to connect with each other. To listen and consider before responding. To value despite disagreements. It's hard; it's awkward; it's uncomfortable—but someone needs to break through the first barrier.
You never know who might take their metaphorical mask off because you gave them the courage. Honesty is the only way out. Let's start talking again. Heart to heart. Face to face.
MORE: University COVID policies exacerbate college students' mental health struggles
IMAGE: Mark Breck / Shutterstock
Like The College Fix on Facebook / Follow us on Twitter