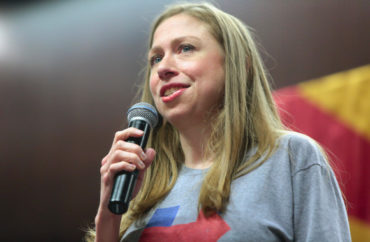 In a display which requires the Politically Correct Hierarchy Handbook to decipher properly, a pregnant former First Daughter Chelsea Clinton faced the wrath of a New York University student Friday evening.
At a vigil for the victims, Clinton was accused of "stoking" the hatred behind the New Zealand mosque shootings. The student told Clinton "This, this, this right here is the result of a massacre … stoked by people like you and the words you put out […] I want you to know that and I want you to feel that deep inside."
Those surrounding the two began snapping their fingers in a beatnik poem reading-like manner.
According to Fox News, Clinton had told the student "I'm so sorry that you feel that way […] it was never my intention. I do believe words matter. I believe we have to show solidarity."
The viral video was made private but @CalebJHull uploaded another version. An activist in NY confronts @ChelseaClinton at a vigil & blames her for the attack in New Zealand. Woman recording stunt then asked for Venmo donations for her bestie. pic.twitter.com/B8YlzxLnUG

— Andy Ngo (@MrAndyNgo) March 16, 2019
"All of this stems from the anger and sadness i felt sitting in a space that was supposed to center me and my fellow muslims in mourning," the student continued on Twitter.
"[I]nstead became a space in which non-muslims preached abt love while turning around and supporting violent campaigns against muslims globally. [T]he only voices i care about in this situation are those of brown students and muslim students who were in that room. white people yelling at me via a twitter rage is the least of my concerns."
Some of the NYU students told Clinton she wasn't welcome at the vigil. One of the students referred to Clinton's recent condemnation of Rep. Ilhan Omar, D-Minn, over the congresswoman's anti-Semitic remarks.

"We should expect all elected officials, regardless of party, and all public figures to not traffic in anti-Semitism," Clinton tweeted on Feb. 10. …

On Friday, Clinton tweeted her condolences regarding the Christchurch tragedy.

"Heartbroken & horrified by the white nationalist terrorist attack during Jummah on the mosques and Muslim community in Christchurch," Clinton wrote. "Keeping all affected by this tragedy in my heart and prayers. We need a global response to the global threat of violent white nationalism."
After the exchange, people from both sides of the political aisle took to social media to defend Clinton.
MORE: Academia wastes no time blaming Trump for NZ murders
MORE: Chelsea Clinton gets fat check for short talk at U. of Missouri
IMAGE: Gage Skidmore / Flickr.com
Like The College Fix on Facebook / Follow us on Twitter