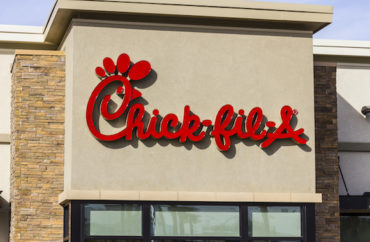 University has vowed to bring restaurant to new campus location
Chick-fil-A, the popular fast food restaurant known for its chicken sandwich and its numerous locations on campuses across the country, is facing opposition yet again from another group of students and faculty, this time at Purdue University.
Chick-fil-A already has a limited presence on the school's campus for a year now, The Lafayette Journal & Courier reports, with the restaurant "delivering a pop-up style location three evenings a week" in a campus building. But the school intends to place a permanent location in a residence hall next year.
That decision has generated significant opposition from faculty and students, The Courier reports, with the plan being "called out…by faculty members, who suggested the university needed to reacclimate itself with the proper way to treat its LGBT students and staff:"
A proposed measure meant to pressure Purdue's administration to make sure that commercial ventures on campus "uphold the same values and promote inclusivity with their policies, hiring practices and actions" didn't call out Chick-fil-A by name.

"It's bigger than that," said Audrey Ruple, chair of the University Senate's Equity and Diversity Committee. "We intentionally didn't want this to be about one business – just 'The Chick-fil-A' resolution."

But Jo Boileau, Purdue's new student body president, didn't mince words about a measure that was purposely broad to make any commercial business looking to open on campus match the university's affirmative action codes. He wanted to talk about the "much more specific case" of Chick-fil-A.

"As student body president and as an openly gay student, this is something I'm confronting on a daily basis, in conversations I'm having every single day with students on this campus," Boileau said.
Campus director of service enterprises Ron Wynkoop told The Courier that the school wants to be "sensitive to [the issue]." He noted, however, that Chick-fil-A's coming to campus is "something that students have called for for a long, long, long, long time. Student body presidents and their cabinets have actually run on that platform, to bring it to campus."
"And they've been on campus for a year, now," Wynkoop added.
MORE: Blocked at some schools, Chick-fil-A still thrives on campuses across the U.S.
IMAGE: Jonathan Weiss / Shutterstock.com
Like The College Fix on Facebook / Follow us on Twitter