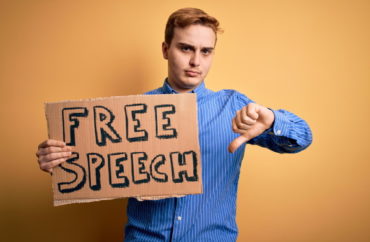 In a recent interview with the student paper, the chief diversity officer at Georgia Southern University said that the "First Amendment excuse is out" when it comes to dealing with insensitive and racist speech.
The George-Anne's Andy Cole prompted TaJuan Wilson by discussing a blackface incident from June:  The university did not rescind the admission of a student who had donned black makeup, scrawled the N-word on his forehead and posted a pic on social media.
"You know, a lot of students take issue with the words Georgia Southern uses—the First Amendment excuse," Cole told Wilson. "A lot of students feel that all Georgia Southern says is, 'Well, we respect the right to the First Amendment.'"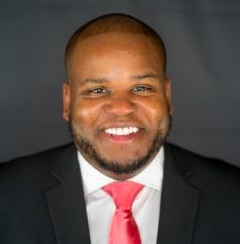 Cole argued that, despite the futility of going to court over an obvious free speech matter, the university could show its commitment to anti-racism by doing just that: "Hey, we hate this so much that we're willing to go to court for it."
Wilson (at left) responded: "I agree with you 100-percent — the I agree with you 100-percent — the First Amendment excuse is out. Right? First Amendment excuse is out. Right? Folks are sick of that."
The diversity officer did cede that the First Amendment is "important" and that it "protect[s] folks on both sides of an issue." He also concurred that public colleges "absolutely" would lose in court if they expelled students for merely saying something stupid.
Wilson also told Cole his job isn't to punish students who have done or said offensive things. Nevertheless, he reiterated the "excuse" of free speech doesn't wash: What's most important, he said, is "showing up for students in the moment."
Despite the nebulousness, Dr. Wilson might be saying that spewing hateful racial epithets merely because one can is a poor "excuse." And he'd be correct. But if the facts of the June blackface incident are as reported, it seems to be merely an instance of a teenager acting stupid … and therein lies the import of the First Amendment.
The College Fix reached out to Dr. Wilson for clarification of his remarks, but he did not respond.
Last year, Wilson suddenly resigned from the University of Iowa as associate vice president for diversity, equity and inclusion claiming it wasn't the "right fit" for him. His salary was close to a quarter of a million dollars annually, and despite not staying in his position for a full year, he wasn't required to repay $25k in moving expenses.
MORE: Activists demand end to academic freedom b/c prof quoted n-word
MORE: University rejects opposing view at diversity event
IMAGES: Kraken Images.com / Shutterstock/com; Georgia Southern Inclusive Excellence screencap
Like The College Fix on Facebook / Follow us on Twitter