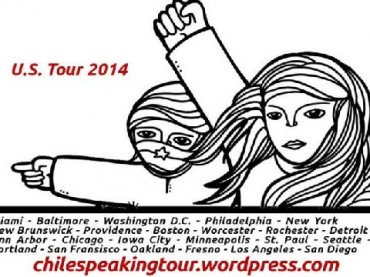 In recent years, college students in Chile have led anti-capitalist protests that have been so successful that the anarchists' student leaders have gained political power in the South American country.
Over the last two months, some of the students who led the Chilean revolución have toured the U.S., teaching American college students how to promote and expand communism here, too.
The events were billed as a way for attendees to learn of the Chilean students' pro-socialistic struggles, and how to replicate those efforts in America.
"They will be presenting on radical student activism, student organizing, and sharing their experiences in building an anti-capitalist student movement," explained the Facebook event page for their stop at Hampshire College in Amherst, Mass., on Jan. 31.
The purpose of the tour appears to be to import Chilean anarchist Communist activism methods to the United States in order to strengthen the growing national movement.
The fact that institutions of higher learning from Miami to Seattle are not only willing to host these workshop, but that many have student-led organizations that take great efforts to plan them, suggests that anarcho-communism is an ideology with growing popularity among college students.
Many of the events were hosted by ethnic studies departments, student anarchist groups, and the like.
The Hampshire College event, for example, was organized by the Hampshire Anarchist Network and the Black Rose Anarchist Federation. The Facebook page for the Hampshire Anarchist Network describes them as "dedicated to the advancement of anarchism" with an aim toward "advocating an egalitarian, anti-authoritarian, and stateless society."
The Black Rose Anarchist Federation promotes anarchist Communism.
Though they did not co-sponsor the event, the Western Massachusetts branch of Jobs With Justice did encourage its members to attend, sending out an email to all members of their listserv.
The Jobs With Justice website promoted the event by stating that Chilean anarchists "will run a workshop on building an anti-capitalist student movement, offer advice on student activism, building connections between the student movement and labor and indigenous struggles, and provide some information on anarcha-feminism."
By the end of this month, the tour will have visited twelve areas in the United States and presented at a number of various organizations, including sixteen stops at colleges and universities, according to the agenda on their website.
The "Struggling To Win"tour included visits to Florida International University South, CUNY, Rhode Island College, Brandeis University, Hampshire College, North Central College, University of Chicago, Seattle University, Portland State University, San Francisco State University, UC Berkeley, Cal State Long Beach and UC San Diego – among other locales.
The tour's website states that "Chile has a long history of working class struggle in shanty towns, factories, mines, community organizations, and schools."
"Anarchists have been a major force in the social movements, strategically organizing to build power," it adds. "This has manifested in solidarity for the Mapuches, anarchists winning the student union elections at the University of Chile, militant pro-abortion actions, and libertarian labor organizations."
College Fix contributor Kartin Marquez is a student at Amherst College.
IMAGES: Facebook screenshots
Click HERE to Like The College Fix on Facebook / Follow us on Twitter – click HERE