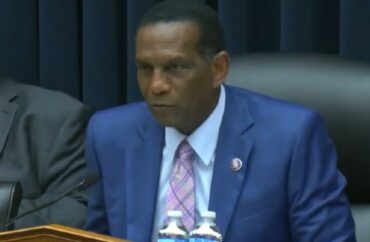 Foreign adversaries use students to 'undermine' America,' congressman warns
China's influence on higher education remains a concern of Congress, with Republicans and Democrats agreeing the country's role must be combatted.
Republican leaders focused on the issue during a hearing this summer, while other reports show elite universities continue to take money from China. There are at least 12 pending bills relating to Chinese influence on education alone according to a College Fix legislation search on August 28.
Additionally, Florida began its enforcement of a law banning public colleges and universities from accepting grants from "countries of concern," including China. And a group of U.S. Senate Republicans are pushing for passage of a bill to crack down on Chinese Communist Party "propaganda" in higher education institutions.
Congressional pressure notched at least one victory recently when the Pentagon announced American colleges can no longer "receive taxpayer funds while hosting Chinese spy outposts," according to The Washington Free Beacon.
The change came after senators raised concerns.
U.S. Sen. Marco Rubio of Florida introduced a bill in June that said the institutes "pose a threat to the American people."
His legislation would close a loophole through the U.S. Department of Defense that allows universities to request waivers allowing the CCP-run program on their campuses, according to Rubio's office. It also proposed the Pentagon funding colleges which host Confucius Institutes.
Meanwhile, U.S. House leaders held a hearing in July to highlight "the dangers" of China's and other foreign adversaries' influence on college campuses.
Congressman Burgess Owens, a Utah Republican who chaired the House Subcommittee on Higher Education and Workforce Development hearing, said China is using higher education to hurt America by targeting its own students.
"China and other foreign adversaries are determined to undermine America's national
interests and infect our political discourse," Owens said in his opening statement at the July hearing. "The modern battleground now includes college, university campuses, and our students' young minds."
The College Fix reached out to Owens via email twice in the past month, but did not receive a response. The Fix asked what he believes are the main failures of the Department of Education, as well as why it is necessary for the government to monitor and regulate the flow of foreign grants.
Additionally, The Fix asked about criticisms from multiple activists and scholars who say federal scrutiny on Chinese activity and funding of institutions of higher education inadvertently causes a growth in anti-Asian sentiments.
Owens (pictured) brought up violations of Section 117 of the Higher Education Act, which requires all academic institutions that receive $250,000 or more from a foreign source to file a disclosure report with the Secretary of Education.
Owens pointed to a 2020 investigation by the Department of Education under the Trump administration that found $6.5 billion in "previously unreported foreign money" received by a dozen prominent universities.
However, the Biden administration "has yet to open even a single Section 117 investigation," Owens said.
Congresswoman Frederica Wilson, a Florida Democrat, said the U.S. government "must ensure that colleges and universities are transparent about their ties to foreign entities."
However, she also said her Republican colleagues "have over-emphasized enforcement rather than providing guidance" regarding the Department of Education's requirements to "collect and publicly disclose certain information about foreign gifts."
This "lack of clear guidance hinders institutions' ability to comply with the law effectively," Wilson said.
Also voicing concerns during the hearing was Craig Singleton, China program deputy director at the Foundation for Defense of Democracies.
"China's whole-of-society strategy to leverage American academic openness aligns with its broader, stated objective of becoming a global superpower," Singleton said.
Singleton praised a new Florida law, Senate Bill 846, that prohibits public universities and colleges from "accepting grants from or participating in partnerships or agreements with a college or university based in a foreign country of concern."
Addressing critics' concerns about anti-Asian sentiment, Singleton encouraged lawmakers to strike "a balance between countering China's malign influence on campus and avoiding inflaming anti-Asian rhetoric or the unjust labeling of Chinese students as spies."
Singleton said Congress should pass legislation to ban the Chinese Communist Party-run Confucius Institutes in U.S. universities.
MORE: MIT keeps donation from company that helps surveil Uyghurs
IMAGE: House Committee on Education and the Workforce/YouTube
Like The College Fix on Facebook / Follow us on Twitter