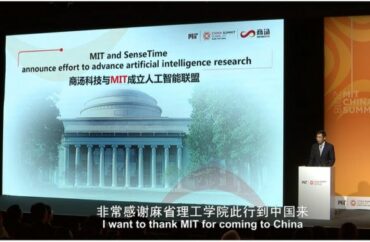 Donation's use 'on hold,' according to university
The Massachusetts Institute of Technology will keep a donation from a company that assists in the surveillance of Uighurs held captive by the Chinese Communist Party.
The remaining donation from SenseTime will remain in the university's bank account despite sanctions against the company from the current and prior presidential administration.
"More than five years ago, in 2018, SenseTime, founded by MIT alumnus Xiao'ou Tang, provided a gift to MIT that allows for unrestricted MIT research. These are MIT-generated ideas and research projects selected by MIT faculty," Kimberly Allen, MIT's director of media relations said in an email to The College Fix.
"Following the government's latest sanction against SenseTime (in December 2021), MIT reviewed the 2018 gift and decided not to return it," Allen said.
She said that "additional uses of the funding not already allocated remain on hold" and the school paused "any new calls for research proposals that might be funded by the gift and not moving forward with any fellowships."
The Treasury Department sanctioned the company in 2021 because it "developed facial recognition programs that can determine a target's ethnicity, with a particular focus on identifying ethnic Uyghurs." The punishment prohibits Americans from investing in the company.
"When applying for patent applications, Shenzhen Sensetime Technology Co. Ltd. has highlighted its ability to identify Uyghurs wearing beards, sunglasses, and masks," the Treasury Department stated.
The company also landed on the Department of Commerce's "Entity List" in 2019 under the Trump administration. Companies on the list cannot engage in trade with the United States.
The Fix emailed SenseTime's public relations team on Aug. 22 and asked for comment on the latest sanctions and accusations and what Tang (pictured) hoped to achieve with his donation to MIT.
MORE: Stanford, Georgetown team up on 'governance' of Internet
While MIT admits to accepting money, it said it does not collaborate with SenseTime.
"MIT does not have any sponsored research collaborations or activities with SenseTime," Allen said.
Whether this statement refers to ongoing collaboration or past partnerships is unclear and seems to contradict previous statements reported by MIT News, quoting the former director of the university's Quest for Intelligence on the SenseTime-MIT partnership.
"'These projects are just the beginning of what promises to be one of the most important initiatives MIT has ever started," Antonio Torralba, the director of the MIT Quest for Intelligence, stated in August 2018.. 'SenseTime's tremendous support for pivotal research will deepen the footprint of The Quest on campus.'"
MIT has not yet responded to requests from The Fix for clarification. MIT has not replied to further questions from The Fix concerning their awareness of SenseTime's use of the research that MIT conducted and published with SenseTime funding.
Tang spoke in November 2018 at MIT's China Summit. At one time he spoke in front of a slide titled "MIT and SenseTime announce effort to advance intelligence research."
"We are very, very fortunate to be able to work with MIT to form this [artificial intelligence] alliance, to work together on AI," Tang said. "I want to thank MIT for coming to China." The university held a summit in China.
The Washington Free Beacon reported that one of the papers funded by SenseTime was co-authored by individuals associated with Zhejiang University which has intricate ties to the Chinese military and has been flagged for economic and academic espionage multiple times and has been labeled as "high risk." MIT has not responded to The Fix's request for comment on this alleged partnership.
Beyond the statements from the former director, the MIT article stated that there was, in 2018 at least, an alliance between MIT and SenseTime.
"SenseTime, a leading artificial intelligence company founded by MIT alumnus Xiao'ou Tang PhD '96, jointly created the alliance with MIT earlier this year to define the next frontier of human and machine intelligence," the university announced.
American defense and security officials have great concerns over this "next frontier" or "machine intelligence" as far as China is involved. A final report from the National Security Commission on Artificial Intelligence raised concerns about China's use of artificial intelligence.
"China's domestic use of AI is a chilling precedent for anyone around the world who cherishes individual liberty," the report stated.
MORE: Musk donated $10M to UT Austin for fertility research
IMAGE: MIT/YouTube
Like The College Fix on Facebook / Follow us on Twitter