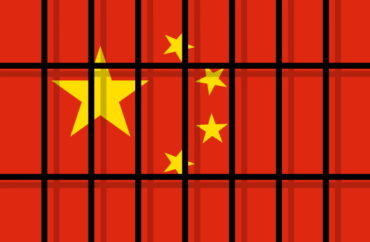 A Chinese national accused of exporting $100,000 worth of U.S. goods to Northwestern Polytechnical University in China pleaded guilty on Wednesday in federal court in Boston.
Northwestern Polytechnical University is a Chinese military university that, according to the Department of Justice, "heavily involved in military research and works closely with the People's Liberation Army on the advancement of its military capabilities."
According to the DOJ, 44-year old Shuren Qin of Wellesley, Mass. entered the U.S. in 2014 and immediately created LinkOcean Technologies, LTD., a company he used to import goods and technology with underwater and marine applications into China from the United States, Canada and Europe.
"Qin took advantage of the open marketplace in the United States to purchase sensitive technologies for a Chinese military university," Assistant Attorney General for the Justice Department's National Security Division John Demers said in a statement following Qin's guilty plea.
"In addition, he lied on his visa application and to U.S. customs officers. When individuals illegally pursue personal profit at the expense of U.S. national security, DOJ will disrupt such conduct and punish those involved."
According to court documents, between approximately July 2015 and December 2016, Qin helped export at least 60 hydrophones (devices used to detect and monitor sound underwater) from the United States to NWPU without obtaining the required export licenses from the U.S. Department of Commerce.
Since 2001, the DOC has designated NWPU on its Entity List for national security reasons, as the military-run Chinese university has been involved in the development of unmanned aerial vehicles, autonomous underwater vehicles and missile proliferation projects – all of which are a security threat to the U.S. Specifically, Qin was ordered to provide devices to aid "anti-submarine warfare."
Additionally, DOJ alleges Qin engaged in money laundering on four occasions by "transferring or causing the transfer" of more than $100,000 from Chinese bank accounts to bank accounts located in the United States with the intent to promote and facilitate his unlawful export scheme.
"The People's Republic of China has an insatiable appetite for our country's most sensitive products and technologies – particularly those with military applications," Acting U.S. Attorney for the District of Massachusetts Nathaniel Mendell said following the guilty plea. "By exporting key anti-submarine warfare products to a Chinese military university, Mr. Qin created a threat to our national security and broke the law. That warrants federal prosecution, without a doubt."
Qin is also charged with committing visa fraud in 2016 for stating on his form that he had not committed any crimes for which he had not been arrested.
If found guilty on all counts, Qin faces over 65 years in prison and $2.25 million in fines.
MORE: Southern Illinois mathematics professor indicted for hiding support from Chinese government
IMAGE: M_Sur/Shutterstock
Like The College Fix on Facebook / Follow us on Twitter