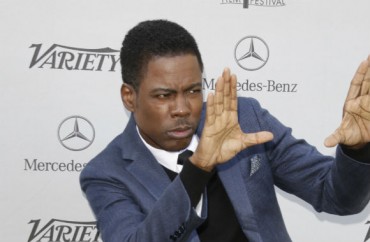 Comedian Chris Rock has received accolades across the board for his handling of the #OscarsSoWhite controversy as Academy Awards host Sunday, ribbing the academy while telling upset black people to not make their lack of nominations into the next Selma.
But the unhinged reaction to one Rock joke from Sunday explains why the comedian said more than a year ago he'll never do another college campus standup gig.
Making a meta-joke about how easily people are offended by everything these days, Rock brought out three Asian-American children on stage posing as the PricewaterhouseCoopers accountants who guard the identities of Oscar winners. One also had a Jewish-sounding name. He deadpanned:
If anybody is upset about that joke, just tweet about it on your phone, which was also made by these kids.
It was a transparent attempt to be transgressive, to illustrate what he's been saying for more than a year – we are all too damn sensitive and shouldn't treat stereotypes as inherently evil. But it fell flat for San Diego State University student Anthony Berteaux.
RELATED: Why comedian Chris Rock stopped doing standup on college campuses
Known to College Fix readers as a sort-of defender of Israel and SDSU's Aztec Warrior mascot, Berteaux has previously scolded Jerry Seinfeld for being annoyed by the political correctness of college students. He claims he "loves and appreciates offensive, provocative comedy."
Berteaux wrote on The Huffington Post that Rock was making fun of these children "on the sole basis of their race":
The worst part is: people laughed. The audience, the viewers, producers and Rock himself, reveled in their own conscious approach to black exclusion from the arts, and yet targeted a minority that is often perceived as being "submissive" and "obedient." In a bit that lasted a mere 45 seconds, audiences across America were implicitly told by Rock and the laughter that followed that racism in the arts wasn't to be tolerated – except when people want to laugh about Asians.
Berteaux ludicrously tries to turn the humorous recognition of a basic fact – that Asian Americans as a group have the highest math scores of any race as a group going back decades – into a precursor for hate crimes:
Never mind that Chinese, Korean and Vietnamese youths are increasingly being harassed, beaten and threatened because of the stereotype of the "high achieving student." Never mind that these very youths are being targeted because they are stereotyped as "submissive" and not being able to fight back.
RELATED: New documentary 'Can We Take a Joke?' to be screened on college campuses
When Rock promotes the "model minority" myth – an assertion by Berteaux that is highly questionable – the comedian reveals his failure to be intersectional, the unforgivable sin of the crybully:
The model minority myth is often used as a tool to protect white supremacy, deny institutionalized racism against Black Americans and justify anti-Black racism. Taking part in the perpetuation of the model minority myth is anti-Black racism in hiding. Ironically, during his attempt to show anti-Black racism in the arts, Rock has successfully perpetuated the very form of bigotry he was trying to call out.
If Berteaux – whose surname suggests he eats gumbo and practices voter fraud, but is actually a recent immigrant from Japan – is typical of the average college student, no wonder Chris Rock and his peers want to stay as far away from campus as possible.
Keep trying to convince us you can't get enough "offensive, provocative comedy," Anthony.
RELATED: Seinfeld Unleashed: Politically correct college kids 'don't know what the f*ck they're talking about'
RELATED: How political correctness drove away comedians from campus
Like The College Fix on Facebook / Follow us on Twitter
IMAGE: Helga Esteb/Shutterstock