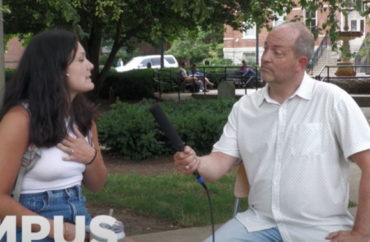 Is truth real? Can we know it? Are there moral claims that are objectively true?
These are some of the challenging questions being asked of students and some scholars as part of a Christian apologetics group's newly launched campus video series.
The interview-style videos are produced by Ratio Christi, which states on YouTube that it seeks to shine a light on the "predominant relativistic and moralistic therapeutic worldviews" held on campuses, even by some Christians.
Will Hoyler, chapter director at Indiana University – Purdue University Indianapolis and a member of Ratio Christi's national team, said the interviews are not meant to stump students with "gotcha" questions.
Instead, they simply ask college students questions "about God, the Bible, Jesus, morality, eternity, and other things," he told The College Fix via email.
The objective of the new "On the Campus" series is to "educate the viewers to what college students think and believe" and use the videos as "starting points for further discussions," he said.
The series launched earlier this month and features videos filmed at Purdue University, IUPUI, Florida State University, and Florida A&M. Hoyler said they will interview students at more schools this fall as the series grows.
The first two videos asked students: "Is Christianity good or bad for the world?" The interviewer, Ratio Christi's President Corey Miller, first asks the basic question, then digs deeper on students' rationales of their answers.
In many cases, the videos show, Miller's follow-up questions help students determine that although they first believe they have a relativistic belief in truth, when they are asked about questions such as murder, slavery and child trafficking, they quickly appear to say truth has absolute moral standards.
Miller's follow up questions center on topics such as who establishes or decides moral law.
Miller told The College Fix his national organization wanted to both reveal "the reality of the campus craziness" as well as "reinvigorate the faith within college campuses."
According to the nonprofit, 75 percent of students leave their faith during their college years. Miller said the best approach to reinvigorating the faith is critical thinking and apologetics, defined as defending the faith through logical reasoning and systematic discourse, what the group refers to as "thoughtful Christianity."
Apologetics "is no longer an option on college campuses" but "is a necessary tool in helping students have confidence in why they believe what they believe and to stay the course," Miller said.
The videos, which are edited, are typically less than 10 minutes. Hoyler told The Fix that future videos will feature titles like "Relatively Moral?" and "Did they Really Say…That?"
So far, the campus engagements have been peaceful and positive, Hoyler said. However if students later state they do not want their footage utilized, their requests are honored, he said.
Miller told The Fix that an administrator did tell his group at one point to leave or get a permit to interview students on campus, but "for the most part, this approach has been fantastic."
"If our conversations can generate more light than heat even with tough questions," Miller said, "then there are all kinds of possibilities to carry the conversation deeper into matters of persuasion, about matters of truth, beauty and goodness."
MORE: Texas university approves Christian group after being hit with lawsuit
IMAGE: YouTube screenshot
Like The College Fix on Facebook / Follow us on Twitter