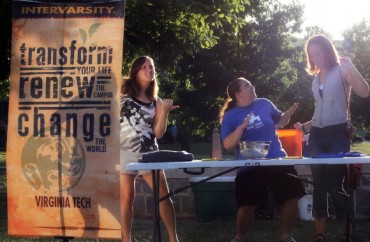 UPDATED
Christians targeted because their rules were in writing
Two Christian student groups that were derecognized by the California State University system last year have been allowed to return.
It came at a steep price, though: They have agreed in writing to let non-Christians run for elected leadership positions in each chapter across CSU's 23 campuses.
That "writing" provision is important. An official with InterVarsity Christian Fellowship told The College Fix that leaders of other religious groups have told him they wouldn't allow students who aren't their own believers to lead their groups, but they won't say so publicly.
CSU's dispute last year with InterVarsity and Campus Crusade for Christ, also known as Cru, involved faith-based rules for leadership in the groups' bylaws.
An executive order in 2011 by then-Chancellor Charles Reed required CSU student groups to allow anyone to run for leadership positions even if their beliefs conflict with that of the organizations. Colleges won the legal right to enforce "all comers" policies in a 2010 Supreme Court ruling.
Just 'misunderstandings' that have been rectified, school says
When they were derecognized after refusing by change bylaws, InterVarsity and Cru not only lost campus visibility but saw their operating costs skyrocket and attendance plummet as more events had to move off-campus, as The Fix reported in February.
In particular, the clubs had to pay steep rental fees for rooms on campus that are free of charge to recognized student groups.
The all-comers order applies to "all student groups on our campuses, not just religious groups," Toni Molle, CSU director of public affairs, told The Fix by email. Yet CSU has acknowledged that fraternities and sororities aren't required to comply because of federal law.
CSU had an extensive conversations with InterVarsity and Cru but gave them no leeway on the order, Molle told The Fix.
Molle told The Washington Times there had been "misunderstandings" about its order among Christian groups, "and during our extensive discussions, CSU leaders clarified that nothing in our policy limits a student organization in their ability to engage in a robust and highly informed election process."
InterVarsity and Cru declined to tell the Times exactly what they changed in their bylaws.
Greg Jao, InterVarsity director of campus engagement, told the Times that it agreed to "some small technical fixes," but the bylaws still maintain that "leaders are expected to lead the group in a manner consistent with InterVarsity's mission and message."
CSU's message to InterVarsity was that "as long as every student has the right to apply and be considered, they would be satisfied," and InterVarsity would be satisfied "as long as our students are free to ask questions during the selection process about faith, missions and message," Jao said.
Cru similarly said it could continue work at CSU without compromising its Christian principles.
"After lengthy interaction with the office of the Chancellor we are confident that our student leaders will be men and women who are able to live out our historical mission without compromise," Mark Gauthier, vice president of campus ministry, told the Times.
Cru did not respond to Fix requests for comment.
School will investigate only if someone complains
Organizations and clubs are required to share their bylaws with their CSU campuses on a yearly basis, Molle told The Fix. They must submit "documentation demonstrating that they do not discriminate in membership or leadership," she said.
But CSU is not proactively enforcing the all-comers policies, Molle said: "If an alleged failure of a student organization to comply is brought to our attention, we will investigate and require compliance."
Jao emphasized to the Times that InterVarsity has never tried to stop non-Christians from joining, as opposed to leading. He estimates a quarter of its 19.5 million members at higher education institutions nationwide "identify as non-Christians."
"Our selection process welcomes everyone, and it does evaluate whether students can lead our religious activities, advance our religious mission, and communicate our religious messages faithfully," Jao told The Fix in an email.
While InterVarsity cannot require its leaders on CSU campuses to be Christian, InterVarsity Christian Fellowship/USA does mandate that leaders of affiliated student chapters affirm the group's "doctrinal basis," Jao said without elaborating.
Get away with discriminating with unwritten rules
CSU's reliance on bylaws meant that religious groups that didn't codify their leadership requirements could continue discriminating against students who didn't belong to their own religion, Jao told the Times.
"I talked to one leader [of a campus Muslim Student Association] at one school, and they said, 'Well, of course we require our leaders to be Muslim. I mean, we're the Muslim Student Association, but it never occurred to us that we had to put it in the constitution,'" Jao told the paper. "'And now that it's forbidden, we have no incentive to be clear.'"
Asked to elaborate by The Fix, Jao said he's heard similar sentiments from other religious organizations but declined to name them.
Ricky Dhanota, a student leader in the Sikh Association at CSU-Long Beach, told The Fix in an email that "we've never had anyone of another ethnicity/religion apply to be a member, or for this matter, a leadership position."
Because that situation is "unprecedented" for the group, Dhanota said he can't speak about any "strict guidelines" the group might observe. But "if someone were to apply for a leadership position or rather just join our club, we wouldn't be inclined to reject them because of any differences."
The Fix also reached out to the Muslim Student Association and Sikh Association at San Jose State University and Muslim Students Association at CSU-Long Beach to ask whether their policies unofficially frown upon student leaders outside of their faiths, or whether they knew of other student groups in their faith with such unofficial policies. None responded.
Jao told The Fix an all-comers policy "actually undermines diversity on campus by pressing minority groups to assimilate," which "doesn't achieve the safe, welcoming, tolerant environment we all want.
"Non-discrimination policies should protect, rather than penalize, religious groups that want to remain faithful to their religious traditions," he said.
UPDATE: This article has been amended to include comment from the Sikh Association at CSU-Long Beach.
Like The College Fix on Facebook / Follow us on Twitter
IMAGE: Jeff Stanford/Flickr