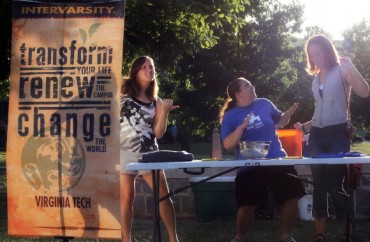 An unorthodox alliance that has angered pro-life groups
A Christian ministry for college students is having trouble explaining its stance on Black Lives Matter following its missions conference last month in St. Louis, just minutes away from the birth of the racial-justice movement in Ferguson, Missouri.
Sixteen thousand young Christians at InterVarsity Christian Fellowship's Urbana 15 sat entranced as a Black Lives Matter activist said the movement was "on mission in the truth of God"—and made remarks that outraged pro-life activists, who are traditional allies of evangelicals.
The ubiquitous presence of the BLM message—including on T-shirts that sold out at the conference and were also worn by worship leaders on stage—led one religion blogger and professor to conclude InterVarsity had made a "full-throated, unapologetic call to support #BlackLivesMatter."
But in an interview with The College Fix, InterVarsity's director of campus engagement, Greg Jao, said the organization had not given the movement its official endorsement and was not asking individual clubs to endorse BLM or participate in such events.
Instead, the ministry supports the key issues behind the movement, as Jao said: "Black lives are threatened. Black people are being under attack. We believe that should change."
Insisting on Christian leadership, whether their own clubs or pro-life participants
Prior to the conference, InterVarsity was better known for its tangles with secular college administrators, not conservative evangelicals.
The entire California State University system had ordered campus chapters to open their leadership ranks to all students, not just professing Christians, as a condition of retaining campus privileges.
RELATED: Cal State Kicks Out Christian Ministry For Refusal To Accept Non-Christian Leaders
The Urbana keynote by Faith for Justice Director Michelle Higgins, a prominent Black Lives Matter activist in St. Louis, created an immediate rift with pro-life groups.
"We're too busy arguing to have abortion banned. We're too busy arguing to defund Planned Parenthood. We are too busy withholding mercy from the living so that we might display a big spectacle of how much we want mercy to be shown to the unborn," Higgins said, according to The Christian Post.
The presidents of Students for Life of America and its affiliate Rock for Life wrote an op-ed accusing InterVarsity of endorsing "a movement which has publicly called for the lynching and hanging of white people and the death of police" while ignoring the high abortion rate among black women.
They also claimed they were denied the opportunity to exhibit their groups, which are not officially religious, at the conference because "advancing God's global mission" was not "the vision and purpose of their organization."
Students for Life has participated at similar Christian youth events in the past, including the Church of God's Focus Conference and Acquire the Fire (whose parent Teen Mania is in the process of shutting down), Communications Director Kristina Hernandez told The Fix in an email.
But it has had difficulty making connections with InterVarsity, particularly its campus chapters, SFL West Coast Regional Coordinator Emily Wilkinson and Northwest Regional Coordinator Lisa Atkins told The Fix in a message relayed by Hernandez.
RELATED: Christian groups return to Cal State only after agreeing to allow non-Christians in leadership
Jao told The Fix that "Students for Life is misrepresenting the situation," however, of why it was denied exhibit space, which is predicated on several criteria.
As a secular organization it "cannot affirm our doctrinal basis," it doesn't sponsor "cross-cultural missions programs," and "at least from what they told us during the application process," Students for Life is "not part of any larger accountability or oversight network," Jao said.
And though the pro-life group's "commitment to a Gospel value of justice and care for the unborn" is "very laudable," Students for Life's mission and purpose does not combine "both justice and evangelism," explained Jao.
So the #BlackLivesMatters movement did? Did you know #abortion is the leading cause of death in the black comm? https://t.co/oj77CdiRXC

— Kristan Hawkins (@KristanHawkins) January 10, 2016
Though the conference's exhibit requirements don't explain how they differ from the application for conference speakers, the foremost requirement is the ability to affirm InterVarsity's statement of faith.
Jao said he didn't know of any explicitly Christian pro-life groups that applied to exhibit or participated as exhibitors. "If there was a pro-life organization that was actually a missions organization, we'd be happy to talk with them about being a participator," he said.
RELATED: Jewish students claim pro-life speech violates Title IX because it's 'triggering'
Students for Life's "mission to abolish abortion and help women facing unplanned pregnancy is very much in line with the global Christian mission of love and compassion," Hernandez told The Fix. She hopes InterVarsity realizes "the mistake of … denying the thousands of the students at Urbana the opportunity to hear the pro-life message."
#InterVarsity Seduced by Compartmentalized "Justice" | https://t.co/LbYrdeqkkA via @DerryckGreen #Urbana15 pic.twitter.com/itp7XnptNe

— IRD (@TheIRD) January 7, 2016
Some donors up, some donors gone
As for whether that "mistake" has cost InterVarsity any discernible amount in donations or pledged giving—as did World Vision's quickly rescinded decision to hire employees in same-sex marriages—all Jao would say is that some donors pulled their funding while others increased their giving.
"We've seen it all!" Jao said when asked what kind of reaction it's seen from other evangelical leaders and donors.
Following the controversy, InterVarsity clarified it "does not endorse everything attributed to #BlackLivesMatter," such as "any call to attack or dehumanize police."
Using the language of evangelical legends Francis Schaeffer and Chuck Colson, InterVarsity said its leaders are "co-belligerents with a movement with which we sometimes disagree because we believe it is important to affirm that God created our Black brothers and sisters."
Though InterVarsity's campus chapters won't be expected to host speakers or events related to BLM, many were already engaging in such discussions before the national leadership made its statement, according to Jao.
An open letter published in Sojourners, a Christian magazine that promotes social justice, thanked InterVarsity for being "the first major evangelical parachurch organization to take a strong stand in support of the message of the Black Lives Matter movement."
Proud of @INTERVARSITYusa for supporting #BlackLivesMatter? Add your voice! https://t.co/29F1Wdcmi8 @iammickyjones @profrah @BrianBantum

— Sojourners (@Sojourners) January 5, 2016
It was signed by administrators and professors at several Christian colleges, the head of evangelical humanitarian organization World Relief, the former editor-in-chief of Christianity Today and various CEOs and activists.
The lead organizer of the letter, former InterVarsity Racial-Reconciliation Director Lisa Sharon Harper, called Higgins' speech "prophetic" and the first example of InterVarsity as a whole supporting "structural and systemic racial justice in the broader society."
Like The College Fix on Facebook / Follow us on Twitter
IMAGE: Jeff Stanford/Flickr