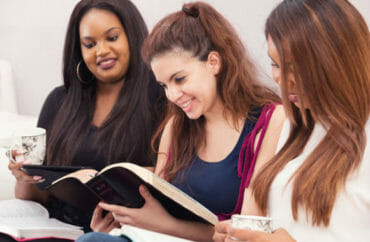 Professor group is silent on the rules, though
The Department of Education's new rules on "religious liberty and free inquiry" has received positive feedback from religious organizations and civil liberties groups.
The goal of the 246-page regulation is to "uphold fundamental rights guaranteed by the First Amendment" and ensure "equal treatment" to religious groups on college campuses, according to a two-page summary from the department.
These rules provide "crucial free speech and religious liberty protections for students at our nation's public college campuses," the Foundation for Individual Rights in Education said in a press release.
But it also warned that colleges – and even the courts – may negatively change their behavior in response, which is why FIRE is only "cautiously optimistic" about the new regulation.
It threatens to pull away federal grants – but not student aid – if public universities don't uphold students' First Amendment rights or if private universities don't uphold their own policies on academic freedom or free speech.
However, grants may only be revoked if a state or federal court gives a "final, non- default judgment" that shows the university "violated these material grant conditions."
MORE: Public university lets Quidditch Club choose its own leaders, not Christian club
The regulation "will have a positive effect" for the First Amendment on public universities, Tyson Langhofer, senior counsel for Alliance Defending Freedom, said in a statement given to The College Fix. "ADF commends the Department of Education for working to ensure that taxpayer-funded institutions respect the constitutionally-protected freedoms of everyone."
It is also the first time that schools are told "how an educational institution may demonstrate that it is controlled by a religious organization for purposes of Title IX," according to the department summary. When a school demonstrates this, it is exempt from some of Title IX's rules that would conflict with a group's religious beliefs.
"Prior to the regulation, many universities would recognize some religious student groups then refuse recognition of other religious student groups," mainly on the basis of "religiously based leadership requirements," Greg Jao, director of external relations for InterVarsity Christian Fellowship, told The Fix in a phone interview.
"We believe the regulation actually supports what universities most desire, which is an inclusive, non-discriminatory environment for all religious groups on campus," Jao (below) said.
The American Association of University Professors declined to answer Fix questions about the academic freedom group's view of the regulation, if it's concerned about federal grants being used as leverage, or what stuck out to the group from the regulation.
MORE: Department of Ed tells schools to play fair if they want to keep grants
Dean of students admitted 'we know we got ourselves to a crazy place'
Under this new regulation, schools will be required to give religious groups on campus the "benefits, rights, and privileges afforded to other student organizations at a public institution," the full regulation says. This includes the same access as other clubs to mandatory student fees.
It will help religious student groups be recognized on college campuses without unnecessary roadblocks, according to Jao.
"Several years ago I was talking to the leaders of the Muslim Student Association, and one of the leaders there said 60-plus percent of Muslim Student Associations in the United States don't register as religious student groups," he said. The reason: "it is too difficult and there's too many challenges so they register as a cultural group."
Defining what it means to be "controlled by a religious organization" has the potential to help eliminate discrimination against religious student groups as well.  The department included what it called a "non-exhaustive list of criteria" that schools can use to determine if they meet this standard.
"An administrator reads 'you can't discriminate on the basis of religion' so they believe religious groups can't require their leadership to be religious, even though that would be fully consistent with what it means to create a space for religious groups on campus," Jao said.  "I talked to one dean of students who said, 'we know we got ourselves to a crazy place and we just can't stop.' I thought that was a brave and honest admission."
MORE: Wayne State lets several student groups violate its rules, just not Christians
Public schools will have to comply with the First Amendment or else they will not "receive a Direct Grant or subgrant from a State-Administered formula." Private schools will have to follow their own policies or receive the same punishment.
"Alliance Defending Freedom has been successful in more than 90% of the cases that we have filed when universities have violated constitutional freedoms," Langhofer said in the statement. "Given the high probability of a loss in court, it's unwise for public universities to jeopardize their federal research grants by continuing to violate the rights of students."
However, FIRE is worried that the threat of losing grant money could lead to bad outcomes in the courts.
"Because institutions risk losing access to federal grants if they lose a First Amendment lawsuit, there is a possibility that institutions will change the way they litigate those lawsuits. It may also affect the way judges decide First Amendment cases, knowing that large federal grants may be at stake," FIRE's press release said.
Universities will have 45 days to report to the Department of Education if they receive a "final, non-default judgment" from a court that says the school violated their students' rights, the regulation summary says.
MORE: Christian groups give up their conscience rights to rejoin Cal State
IMAGE: Dream Perfection/Shutterstock
Like The College Fix on Facebook / Follow us on Twitter