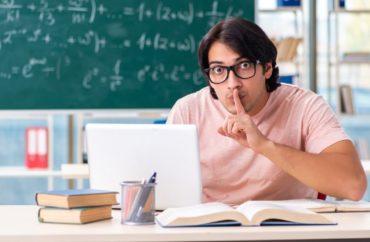 Software company Canvas has previously told universities not to rely on its data for cheating accusations
A pair of civil liberties groups have said that students are being accused and punished of cheating on online exams, but they are not being provided due process.
This often includes using logs from Canvas and Blackboard to punish someone for cheating on a quiz or test, but not providing the student the ability to review the evidence
"[D]ozens of students at multiple schools, public and private, have alleged they were falsely accused of cheating via e-learning systems like Canvas and Blackboard and have raised questions about the data supposedly proving their guilt," Alex Morey, the editor-in-chief at the Foundation for Individual Rights in Education, told The College Fix via email.
"We have heard of multiple situations where an accused student is asking for the full system data and being denied," she said.
Morey said FIRE's interest in these situations is to protect the due process rights of students, not necessarily to defend them against the accusations.
Morey said:
We don't typically take academic misconduct cases because they don't normally implicate students' civil liberties. But among this most recent spate of online cheating cases, there were cases that did implicate these important rights. Students were asking schools like Dartmouth for the e-learning system's backend data and being denied that crucial evidence.
"Given that experts at groups like [Electronic Frontier Foundation] have said that this data is the only reliable way to tell whether a student actually cheated," Morey said, "that evidence is absolutely critical for students to defend themselves."
EFF is a digital privacy and free-speech advocacy group, with the mission "to ensure that technology supports freedom, justice, and innovation for all people of the world."
Students denied access to evidence they paid for
Recently, it authored a report  letting students know what they should do when they have been accused of cheating online.
Bill Budington, a senior staff technologist with the foundation, told The Fix that universities need to improve their policies and support due process.
"Even aside from the cheating allegations" he said in an email to The Fix, "administrators know exactly what course materials were accessed and when, so they know when students are studying and when they aren't."
This is information that is shared with universities freely but not with the students who are paying for this service which is ultimately surveilling them. Budington also said that very few students know their rights when it comes to online privacy and noted that private universities are especially bad in this regard.
"These universities also have a reputation to uphold," Budington said "which is why they should do the right thing and follow due process when accusing students, and actually present the evidence they have against students."
Even with all these challenges, Budington maintains that students should not simply let universities get away with these accusations. He encouraged students to speak to the press and get word out about the punitive measures that they are facing.
"Speaking to the press and getting the word out about the punitive measures they face provide a much-needed disincentive for universities to pursue spurious allegations, as we've seen in the case of Dartmouth."
When asked what he thought companies such as Canvas and Blackboard could do to help with these problems, Budington said Canvas needs to speak out more strongly when its electronic logs are used as evidence in cheating accusations.
"The burden of proof should lie on the universities themselves, with corroborative evidence from various sources, before any such accusation should be made" Budington said.
The College Fix called both Blackboard and Canvas and left messages asking for media contacts but did not receive a response from either in the past several weeks.
MORE: AI gains foothold in admissions process
IMAGE: Elnur/Shutterstock.com
Like The College Fix on Facebook / Follow us on Twitter