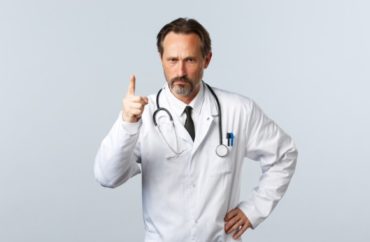 'Disparaging other members' of the med school could lead to discipline
Soon after medical students at Dartmouth College started lodging criticism against administrators over a cheating scandal, the Ivy League university released a new social media policy.
"Disparaging other members of the Geisel UME community will trigger disciplinary review," the April 5 social media policy says, according to a copy posted by the Foundation for Individual Rights in Education.
The free speech group sent a letter on April 14 to the Ivy League university with a request that they clarify the policy and protect freedom of expression.
The new regulation "is irreconcilable with Dartmouth's robust commitments to its students' expressive rights," FIRE said in its letter. The group said the new policies "will chill Geisel students' ability to speak freely about Dartmouth, including its handling of the academic misconduct controversy."
MORE: Law school warns students not to advocate dropping bar exam on social media
The policy warns students that even anonymous posts can be traced to the original author — a statement that FIRE sees as a veiled threat.
The letter to university president Philip Hanlon said:
Given that this policy—which tells students to "[r]emember that 'anonymous' posts may still be tracked to their original author"—follows swiftly on the heels of anonymous student criticism of Geisel School, it raises the appearance that it has been implemented in order to chill the speech of Geisel students who have voiced concerns that their rights are being violated.
The university elsewhere said it supports free speech. "The Social Media Use Policy is inconsistent with these firm commitments to expressive rights," FIRE said.
There is "no defensible reason for the college to require its students to be 'courteous, respectful, and considerate' in communications having no relationship with the college," the letter said.
It said there is at least one example of speech being chilled under the new policy, citing deleted Instagram criticism.
"This policy will have—and has had12—a pronounced chilling effect on Geisel students' online expression, hollowing out Dartmouth's glowing promises purporting to protect students' expressive rights," FIRE said.
"The college must immediately clarify that it will not punish students for exercising the free speech rights afforded by Dartmouth's own policies and by which Dartmouth is contractually bound," Alexandria Morey, the program officer for the free-speech foundation said.
MORE: No plans to rename Geisel med school named for Dr. Seuss
IMAGE: Mix and Match Studio/Shutterstock
Like The College Fix on Facebook / Follow us on Twitter