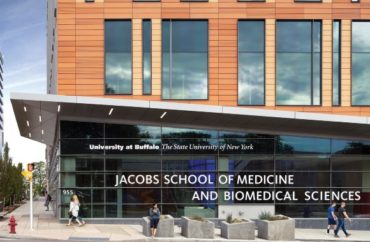 A federal civil rights complaint has been filed against two medical school programs that forced white and Asian applicants to prove they are "economically disadvantaged" to be considered on equal admissions footings with other races.
The complaint was filed July 25 by the Legal Insurrection Foundation's Equal Protection Project. It argues the University at Buffalo Jacobs School of Medicine and Biomedical Sciences offered two programs that gave unlawful admissions preferences to students who are either "economically disadvantaged or historically underrepresented," citing screenshots of the program's website.
"The discrimination is apparent: if applicants are black, African American, American Indian, Alaskan Native or Hispanic, they are automatically eligible for the program. Applicants who do not fall into one of those racial and ethnic categories are automatically excluded from consideration unless they can show that they meet the guidelines for being 'economically disadvantaged.' The 'historically underrepresented minorities' are not required to prove any economic need," alleges the complaint, filed with the U.S. Department of Education's Office for Civil Rights.
At issue is a year-round Medical Science Technology Entry Program, or STEP, for high school students, and another summer program for middle school students.
The programs' website states it is specifically designed to "increase the number of historically underrepresented and economically disadvantaged students prepared to enter college, and improve their participation rate in mathematics, science, technology, health-related fields, and the licensed professions."
The complaint argues "UB makes clear that students who are 'Asian,' 'Caucasian/White' or 'Native Hawaiian/Pacific Islander' are excluded from consideration for STEP unless they meet the low-income criteria – something that students who are 'African American/Black,' 'Hispanic/Latino' or 'Native American/Alaskan Native' never have to demonstrate."
"… UB's creation, ongoing sponsorship and active promotion of the UB Medical STEP programs that explicitly give admissions preference based on race and skin color violates the Equal Protection Clause of the Fourteenth Amendment of the U.S. Constitution as well as Title
VI of the Civil Rights Act of 1964," it states.
The Equal Protection Project in June also filed a complaint against SUNY Buffalo's School of Law for an undergraduate summer program that allegedly gives preferences to non-white students.
As for SUNY Buffalo's medical school, as The College Fix reported in April, it has reconstructed its curriculum and policies to incorporate "anti-racist" principles; the school implemented a "holistic admissions policy" to ensure diversity and planned "equity initiatives" in lesson plans.
MORE: Nationwide survey finds most med schools embedded DEI into their programs
Like The College Fix on Facebook / Follow us on Twitter