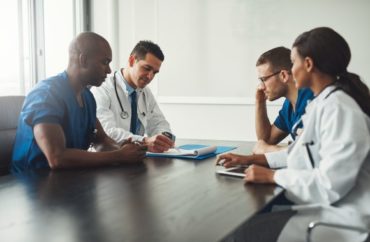 The goal is to ramp up incorporation of DEI into every aspect of medical schools
A new survey completed by dozens of medical schools found they are committed to making DEI part of virtually every aspect of their programs, from promoting staff to treating patients.
More than 100 institutions took part in the Association of American Medical Colleges' "Diversity, Inclusion, Culture, & Equity Inventory," the first-ever report on DEI policies and practices at U.S. and Canadian medical schools, according to a November 10 AAMC news release.
"Major highlights" of the report include the finding that 100 percent of medical schools surveyed have admissions "that support a diverse class of students."
Additional highlights are that 97 percent of schools have senior leaders "who show commitment to DEI in their personal actions" and communication, and 89 percent of medical schools say DEI is central to their school's mission statement, the news release stated.
The AAMC is a nonprofit organization that lists as members 170 accredited medical schools, more than 400 teaching hospitals and health systems, and more than 70 faculty and academic societies, according to its website.
Report co-author and medical doctor Malika Fair stated the findings confirmed that existing DEI policies are effective and "doing well" and identified targets to integrate DEI deeper into the institutions, the group stated in its release.
However, Dr. Stanley Goldfarb, board chair of Do No Harm, an organization of medical professionals opposed to identity politics in medicine, criticized the AAMC's priorities as "a real risk for the American people."
"The AAMC has made it clear that they value diversity and the elements of critical race theory, including assuming that any deficits in educational attainment or disparities in health outcomes are the result of oppression of minorities," Goldfarb told The College Fix in an email Wednesday.
"The public can now see how misguided the leadership of American medical education has become. Merit and complete commitment to caring for patients as individuals has given way to a focus on social justice, group identity, and diversity of the physician workforce. This emphasis poses a real risk for the American people," he said.
The goal is to incorporate DEI into every aspect of medical schools
The Diversity, Inclusion, Culture and Equity Inventory is a "tool designed to aid leaders in conducting a comprehensive review of institutional policies, practices, procedures, and programs that contribute to a diverse, equitable, and inclusive culture and climate for students, faculty, staff, and administrators," David Acosta, the association's chief diversity and inclusion officer, said in a statement provided to The College Fix.
"Using the DICE Inventory helped medical schools identify areas for improvement for creating a holistic strategy where DEI is integrated into all operations and mission areas," Acosta stated. "Medical schools reported plans to use their findings from the DICE Inventory to begin making policy changes, inform their strategic planning, and support ongoing improvement efforts."
Acosta told The National Desk, a program produced by the Sinclair Broadcast Group, that the association and its members "have an obligation to address the factors that drive racism and bias in health care and prepare physicians who are culturally responsive."
"There is strong evidence that historically marginalized people and people who live in poverty disproportionately experience poor health and inadequate access to quality care. These inequities are often rooted in systemic discrimination, including racism, within the nation's health systems that contributes to lower quality care," he said.
"Areas of improvement" highlighted by the report's authors include the finding that "just 63.4%" of schools have a "faculty diversity recruitment plan" and only "67.3% require departments to assemble a diverse pool of candidates for faculty positions."
Other alleged problematic findings include that just a third of schools have "performance incentives for the school or its departments to achieve DEI goals," and less than half of the schools reward DEI commitment by faculty in decisions related to promotion and tenure.
Even so, the tenure and promotion policies of more than 43 percent of the schools "specifically reward faculty scholarship and service on diversity, inclusion and equity topics," according to the report. Over half of the institutions also have a "staff service award" to recognize the faculty's "contributions" to DEI. The nature of the award was not specified.
Also, nearly 40 percent have processes to assess aspiring staff members' contributions to DEI. For example, many schools require job candidates to submit a diversity statement.
Overall, 60 percent of school achieved DICE Inventory scores above 80 percent, indicating that they are making progress that the AAMC considers satisfactory towards diversity targets.
Acosta expressed hope about using the findings for future reforms.
"Having this data creates a number of opportunities for our member institutions to consider and possibly leverage," he said in the news release. "Developing DEI benchmarks for academic medicine is long overdue and could assist us in developing the right metrics to measure the effectiveness of all of the DEI efforts … and that's exciting."
MORE: UCSD med school trains doctors to use critical race theory in health care: report
IMAGE: Ground Picture/Shutterstock
Like The College Fix on Facebook / Follow us on Twitter