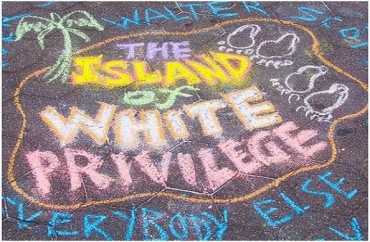 Allegations that a middle school teacher forced several students to stand and apologize for their "white privilege" have rocked a North Carolina school district.
First reported by American Lens, during a meeting of the Rockingham County School Board last month, a woman named Farren Wilkinson made the troubling accusations against a teacher from Western Rockingham Middle School.
"[The teacher] caused some of her students to stand up and apologize to other students based on their inequal [sic] opportunities of education," Wilkinson said.
"So I would like to know how our schools can allow an educator to humiliate, bully and degrade students. This is not a matter of race but a matter of a teacher using fear and the embarrassment of children to satisfy her own personal anger or beliefs."
American Lens was also told by one parent that the incident was more specific than Wilkinson stated.

According to that parent, [the teacher] forced her white students to stand in front of the class and apologize to the minority students for their "white privilege."

American Lens contacted Stephanie Wray, Principal of Western Rockingham Middle School, [and] asked for comment the alleged white privilege [the] incident […]

Wray indicated no such incident happened.

"In regard to your additional requests, I can not [sic] speak on any individual, however any allegations brought to our attention are investigated thoroughly and proper disciplinary action is taken if needed. Again, I can not speak regarding specific individuals due to personnel law, however the particular incident you asked about was unfounded to happen at our school," wrote Wray.
Principal Wray's response appears to be the district standard for The College Fix received the exact same answer after contacting Rockingham spokeswoman Karen Hyler.
The Fix also reached out for comment from the accused teacher but received no response.
Rockingham County Public Schools recently fell into the feel-good trap known as "equity training."  Like with the Pacific Educational Group's "Courageous Conversations," staff were educated on topics like "structural racism" and yes, "white privilege."
Rockingham's program is headed by a group called OpenSource which, according to the Lens, works with "a list of left-leaning 'partners', including the radical, pro-illegal immigration, hispanic [sic] organizing group, El Pueblo" and has as one of its main clients the Z. Smith Reynolds Foundation, "a primary funding source for progressive and leftist organizations in North Carolina."
Read both American Lens stories.
MORE: University hosts training on how to 'reduce the impact of white privilege'
MORE: 'Raise Better White People': The 18th White Privilege Conference in its own words
Like The College Fix on Facebook / Follow us on Twitter
IMAGE: waywuwei/Flickr