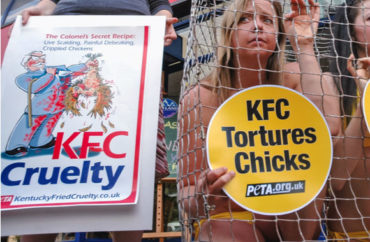 We were going to change it all along! 
It's a tradition at Clemson University home football games to release balloons. Sports Illustrated ranked it the best entrance in college football in 2016. It dates back to 1983.
Rather, it was a tradition before the public university caved to an animal rights group known for its publicity stunts, celebrity support and elevation of animals over humans.
Like other spineless university administrations, Clemson is trying to couch this reversal – leaked by a member of the athletics support organization last week – as a change that was years in the making.
The Tiger reports:
"Several years ago, a recommendation was made by the Clemson University Commission on Sustainability to review the practice of releasing balloons into the sky prior to football games," [Associate Vice President for Strategic Communications Joe] Galbraith said in an email to The Tiger on Saturday afternoon. "Following discussions with campus groups, a plan was put in place by the university administration two years ago to reduce the number of balloons by half in the 2017 season and completely for the 2018 season."

Galbraith added that, "While there have been numerous games in the past several years at which balloons were not released (mainly due to weather), campus officials have worked closely with athletics and Central Spirit to determine future plans surrounding the gameday experience as an alternative to balloons. The university and athletics are also discussing new gameday responsibilities for students in Central Spirit who have previously been involved in filling balloons with helium prior to games."
This is simply not plausible. People for the Ethical Treatment of Animals started a campaign against the balloons earlier this year, and though it's gone as of Thursday, the petition was still up July 29, two days after Central Spirit leaked the change.
"Urge Clemson University to Halt Hazardous Balloon Releases," the petition reads, with a share count of 13,600:
Balloons are an environmental hazard and can travel vast distances before finally bursting and falling to the ground or into bodies of water. Animals then mistake the fragments for food and consume them, which can result in choking and, sometimes, suffocation. Land animals have starved to death after their intestines became blocked with balloon fragments. Wild birds have been found with balloon latex binding their necks, beaks, and legs. PETA and others have repeatedly contacted Clemson officials to ask them to consider alternative pregame traditions, to no avail.
So the administration just happened to end this tradition with no announcement months after PETA launched a crusade against it? That's less likely than fake meat with the texture of meat.
Clemson gets a 40 percent student-satisfaction rating (no explanation given) on PETA's "Vegan Report Card," which says the university offers nondairy milk and "at least one [labeled] vegan entrée at every meal." But it fails PETA's other requirements, including promotion of vegan options and an "all-vegan dining facility."
Raise a big enough stink and the university will probably cave on those, too.
Read the article and the petition.
MORE: Clemson trains employees to be late because it's 'inclusive'
IMAGES: Fotokon/Shutterstock PETA screenshot
Like The College Fix on Facebook / Follow us on Twitter