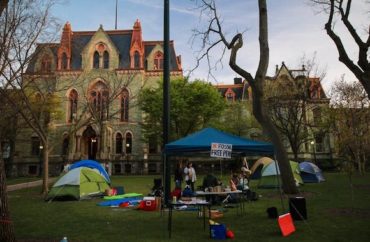 A place to 'create a space for radical and imaginative thought on campus'
Students at one of the country's most selective universities camped out in the middle of campus Tuesday night, and said they won't leave until administrators agree to their demands.
The Daily Pennsylvanian reports that following a "S'mores & Community" event, members of the University of Pennsylvania group Fossil Free Penn stayed put, erecting tents and hanging signs stating their demands.
FFP's Sarah Sterinbach said the group was there "to stay" because "climate justice and justice for the Philadelphia community should be at the center of campus."
In addition to divestment from fossil fuels, FFP wants UPenn to "publicly condemn" the fossil fuel industry, "restructure" its Board of Trustees to include "students and members of the West Philadelphia community" and to defund the campus police department (while Philadelphia, UPenn's hometown, is dealing with an out-of-control violent crime surge).
Further demands include banning research funding from fossil fuel companies and not allowing company representatives to attend UPenn job fairs.
Sterinbach said an "additional goal" of the encampment was to "create a space for 'radical and imaginative thought' on campus."
MORE: Anti-fossil fuel group at Penn continues to struggle amid student indifference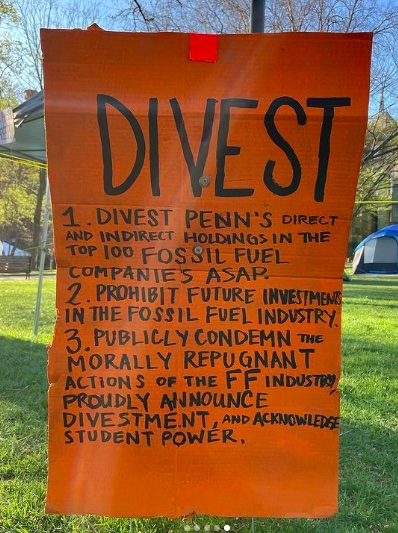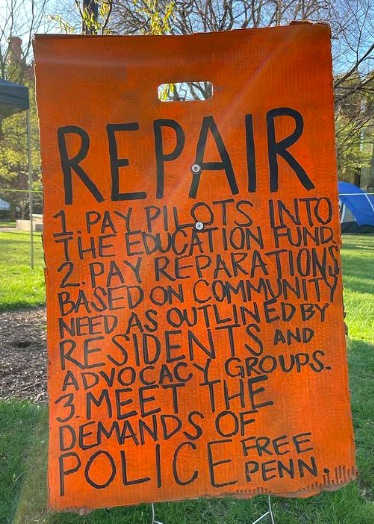 According to The Philadelphia Inquirer, UPenn Police had asked the campers to leave on Tuesday, but at least six students remained with more joining them the following morning.
In 2016, the UPenn's Board of Trustees refused to divest, saying the industry is not "a moral evil." Three years later, FFP members crashed a Board of Trustees meeting, yelling that fossil fuels are "genocidal" and eventually causing the confab to be shut down due to their constant shouting and singing.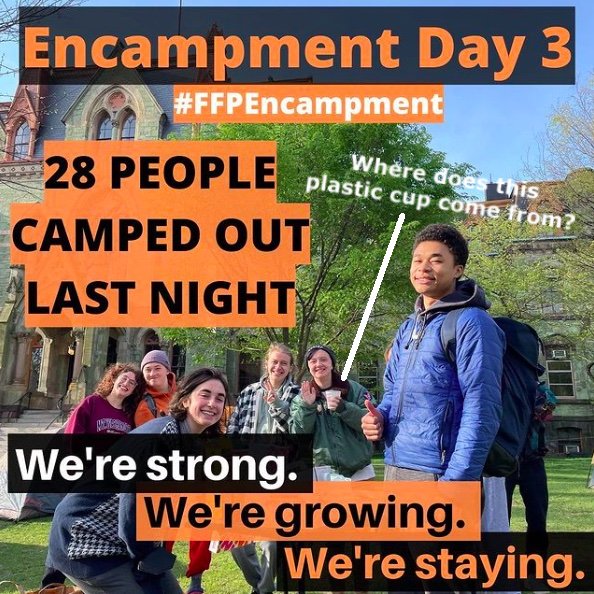 FFP's Ari Bortman claimed that UPenn's promise last year to "halt new commitments to private equity vehicles dedicated to investments in fossil fuel production" does not equal divestment "in any sense." He said "The University can still invest in fossil fuels via mixed funds, which is how they generally allocate their investments."
Group member Emma Glasser noted there currently aren't any concrete plans to leave the encampment: "FFP is continuously assessing when [it] plan [sic] to leave, and will re-assess leaving once [its] demands are met."
Read the Daily Pennsylvanian and Inquirer articles.
MORE: Penn anti-fossil fuel group upset at administration's 'disrespect,' indifference to its 'sacrifices'
IMAGES: Daily Pennsylvanian/Twitter screencap; Fossil Free Penn/Instagram screencaps (1 embellished)
Like The College Fix on Facebook / Follow us on Twitter