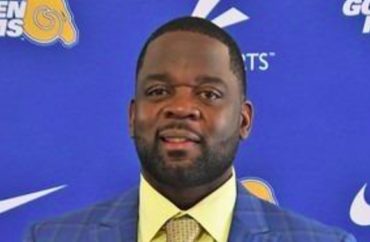 The head football coach at Albany State University, an historically black college (HBCU), recently offered an apology for recruiting a white high school player who was seen on video singing along to a rap song which included the n-word.
Quinn Gray wrote last Friday that he did not "uphold the Ramily standard" (Albany State's mascot is the Golden Ram), and his recruitment of "four-star high school quarterback" star Marcus Stokes "did not meet [ASU] expectations" and "was unacceptable."
Gray (pictured) noted Albany State President Marion Ross Fedrick had "made it clear" that he did not meet ASU's expectation of "excellence."
Stokes ended up losing a scholarship offer from the University of Florida after the n-word-including video went viral, CBS News reported. Stokes had turned down an offer to play at Penn State in order to play for UF.
"I deeply apologize for the words in the song that I chose to say," Stokes had written in a now-deleted Twitter statement. "I fully accept the consequences for my actions and I respect the University of Florida's decision to withdraw my scholarship …"
Blessed to reciever my first HBCU offer to play at Albany State University! @CoachQGray @ASUGoldenRamsFB @Andrew_Ivins @CoachDrafts @NeaseFTBL pic.twitter.com/5mAsS0Mv3X

— Marcus "JOKER" Stokes🃏 (@marcusstokes06) January 24, 2023
Stokes tweeted last week about Gray wanting him to come to ASU; however, Gray apologized for recruiting him just three days later.
I only wanted the best for our team, athletes, and institution when I invited the student to visit ASU. As I say to our players, "there is a consequence to every action." The consequences of my actions brought pain to our University. I was trying to help a student get back in competition, and in my haste, I did not consider the impact the decision would have on all of you. Frankly, it wasn't my place to use ASU as the platform for redemption in this case. I regret that I used flawed judgment. If given the opportunity, I will do better. …

My actions caused you to question my commitment to our institution and our ancestors. As the consequences go, I hope to find a way back into the Ramily.
Since ASU's (now-rescinded) offer, Stokes tweeted that he's gotten offers from Alabama A&M (another HBCU) and the University of West Florida.
MORE: Black high schoolers demand right to use n-word; want white teacher canned for saying it
MORE: Students rip Princeton investigation into n-word-using professor, demand his firing
IMAGE: Albany State screencap
Like The College Fix on Facebook / Follow us on Twitter