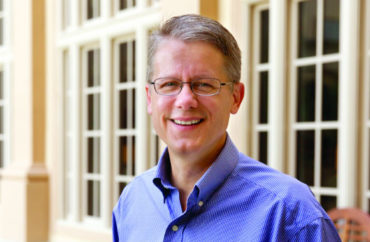 Professor Mike Adams, an atheist turned Christian conservative known as a firebrand and staunch defender of the unborn and Constitutional rights, has died. He was 55.
The longtime University of North Carolina-Wilmington criminology professor was found dead at his home Thursday. Police have yet to release the cause of death. A local news outlet, citing police dispatch banter, reports that a gunshot wound was involved.
Adams is best known for successfully suing UNCW for denying him a promotion because of his Christian, conservative beliefs. In 2014, Adams won a retroactive promotion and back pay, as well as $700,000 in legal fees, in a decision that capped off a seven-year court battle.
Adams' lengthy court case "in the face of so much personal animosity took enormous strength and resolve," said Jay Schalin, a scholar with the North Carolina-based Martin Center for Academic Renewal, in an email to The College Fix.
Schalin said Adams will always have "a tremendous legacy in the world of higher education and the fight for free inquiry because of Adams v. UNC-Wilmington."
Adams was also well known as a contributing columnist for the conservative news outlets Townhall and the Daily Wire. He was a frequent critic of leftist higher education bias. He was also a prolific pro-life speaker and involved in the Christian campus apologetics group Summit Ministries.
Our whole team at Summit is grieved over the loss of our beloved faculty member and friend, @MikeSAdams. He taught students about the 1st Amendment and gave them tools to defend the unborn and speak up against threats to religious freedoms on their college campuses. pic.twitter.com/x6CbvIzt8r

— Summit Ministries (@summitmn) July 24, 2020
"Our whole team at Summit is grieved over the loss of our beloved faculty member and friend, @MikeSAdams. He taught students about the 1st Amendment and gave them tools to defend the unborn and speak up against threats to religious freedoms on their college campuses," the ministry tweeted Friday.
Adams "fought fiercely to preserve the right to free speech for every American. He was a soldier and a friend who was bold, committed to truth, and deeply invested in his students' success," the group said.
Friends and colleagues said Adams leaves a legacy defending academic freedom.
"Mike Adams became a champion of the First Amendment in the university context after his academic colleagues turned on him for becoming a conservative," said education expert Adam Kissel in an email to The College Fix. "He fought and won an academic freedom and free speech lawsuit that vindicated the rights of faculty members across the Fourth Circuit (West Virginia, Maryland, North and South Carolina, and Virginia)."
Kissel added that Adams exposed even more leftist bias through research.
"In a joint research article with me, Mike showed that threats to free speech in the UNC System since the 1960s have come more from the left than the right and more from leaders on campus than off campus," Kissel said. "In another article, he unmasked and critiqued the progressive ideology motivating most of the criminology discipline, one of his areas of expertise. He also publicly challenged discriminatory administrators, policies, and practices at UNC-Wilmington and prevailed against some of them."
Adams was also a frequent speaker on behalf of Young America's Foundation.
"Adams spoke passionately to thousands of students over the years on topics ranging from free speech, to feminism, to the pro-life movement," the foundation stated. "He spoke on more than 100 campuses and was a featured speaker at many conferences hosted by Young America's Foundation and others."
Students at the UNC-Wilmington YAF chapter also remembered Adams fondly.
"Those who knew him understood he was a jovial man — a man as likely to crack a joke as he was to discuss Christian apologetics or complicated philosophy," the chapter said in a tweeted statement. "He was charming and kind; a man one could rely on in trying circumstances and desperate times."
In early May, The College Fix featured Professor Adams' efforts to fight against draconian COVID-19 measures enforced in the Tar Heel State.
"People actually come after me—they've done it for years … as if they don't think when I write something that I know the law backwards and forwards," he said at the time.  "… As sarcastic as I am and provocative as I am, I'm actually very cautious at the same time. I think about what I write before I write it."
More recently, Adams came under fire for several tweets some deemed racist and insensitive. Thousands supported an effort to get him fired. Adams was set to retire Aug. 1 after reaching a retirement settlement package with the university for more than $500,000, according to local news reports.
"This resolution is less damaging to UNCW than leaving the situation unresolved," UNCW Chancellor Jose Sartarelli stated. "In addition to saving money, the settlement will prevent the continued disruption to our educational mission, reduce concerns around campus safety, and lessen the harm to the institution."
David French, Adams' attorney during his famous court case against UNCW, also mourned his friend's passing in a Twitter thread.
"He won teaching awards. He won service awards. His case helped preserve academic freedom. At the same time, there was pain he did not show. He suffered loss he did not discuss," French said. "But he trusted Jesus. He relied on God's grace. Rest in peace, my friend."
Mike Adams died today. He was my friend. He was my client. We spent seven years in court together, fighting a long battle for free speech until a jury declared him a winner — six short years ago. I want to tell you some things about Mike. /1 https://t.co/wcRqVnoxzt

— David French (@DavidAFrench) July 24, 2020
Summit Ministries is planning to host a forum in the coming weeks to celebrate Adams' life.
Like The College Fix on Facebook / Follow us on Twitter