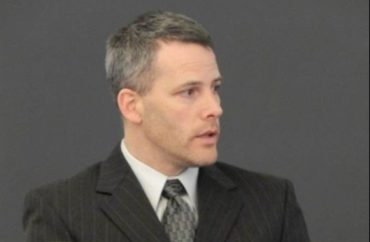 Not clear how he can continue getting his Ph.D.
Richard Taylor remains banned from teaching because of a class session where the adjunct history professor asked students if global trade has been good overall – the wealth it unleashed versus the human rights abuses it enabled, including slavery.
St. John's University has squeezed him even further by banning other faculty from letting Taylor lecture their classes, according to the Foundation for Individual Rights in Education, which is assisting the former New York City police officer.
The Catholic school removed Taylor due to more than 300 "misconduct" complaints submitted against him for the class session – only one of which came from a student in the class, the university told him.
The rest came from a form letter promoted by an Instagram account for "Radical Social Justice Warriors" at the university, accusing him of promoting slavery to his students. SJURadicals had also accused the official investigating Taylor, Keaton Wong, of turning a blind eye to previous misconduct by another employee.
FIRE's Monday update says St. John's still hasn't explained its reasoning for removing Taylor, who is getting paid while not teaching following a virtual meeting Friday. The ban on him lecturing any other classes "leaves a number of unanswered questions," wrote Adam Steinbaugh, director of the Individual Rights Defense Program:
First among them is how will Taylor continue with his Ph.D. if he's banned from teaching? Teaching is a requirement of his Ph.D program. The administrators in that meeting — including the interim dean of his program [Gina Florio] — stated he would be permitted to finish his Ph.D. but that he would need to submit a written question about the teaching requirement. That question would then be left in the hands of St. John's President Conrado Gempesaw, and Taylor will have to email him to find out if he can continue as a student.
MORE: Guilty of harassment for asking students if global trade has been good
Taylor has previously guest-lectured when the subject is the 9/11 terrorist attacks, where he spent 700 hours digging through the rubble at Ground Zero and developed health problems as a result. He is "the living, breathing testimony of the history those classes seek to teach," Steinbaugh said.
FIRE also questions the claim by St. John's that Taylor was even subject to an "investigation" before his removal, noting he has been denied "even a summary" of how the purported investigated was conducted, much less any record from it.
In a nod to the SJURadicals account that directed hundreds of anti-Taylor form letters to the university, FIRE asked supporters to carpet-bomb the administration with its own pro-Taylor letter.
Some of his students are also pushing for his reinstatement via Change.org, saying Taylor's course gave them "the historical background necessary to understand how the global society we live in came into being":
He wanted to make us develop a critical thinking and therefore, not taking everything for how it is, and this is something to be admired about him. Any form of cultural, ethnic, gender, linguistic, sexual, racial or religious harassment was not allowed in the classroom and he respected that.

We ask that you sign this petition to help Prof. Taylor have his job back. He does not deserve to have his life ruined for a misunderstanding.
The petition has 134 signatures so far.
MORE: University clears prof for writing pro-colonialism article
IMAGE: Foundation for Individual Rights in Education
Like The College Fix on Facebook / Follow us on Twitter