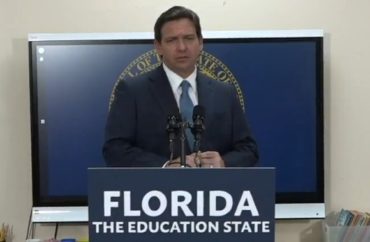 Law signed in May restricted classroom instruction on 'sexual orientation and gender identity'
The College Board refused to revise its Advanced Placement courses in response to new Florida laws limiting school instruction on controversial sexual topics.
The board, a nonprofit that produces the SAT and Advanced Placement programs, "will not modify our courses to accommodate restrictions on teaching essential, college-level topics," it stated in a recent news release.
"The Florida Department of Education Office of Articulation recently requested that we audit and potentially modify AP courses relative to the new Florida laws that restrict classroom instruction on sexual orientation and gender identity," the College Board stated.
"The learning objective within AP Psychology that covers gender and sexual orientation has specifically been raised by some Florida districts relative to these recent regulations," it continued. "That learning objective must remain a required topic, just as it has been in Florida for many years."
Even more, "the American Psychological Association has also made clear that the topics of gender and sexual orientation are foundational for any college-level course in psychology," it wrote.
The Florida Department of Education had implored the College Board to "conduct a thorough review" of its courses in light of the new state laws, according to a May 19 letter provided to The College Fix by a representative of the Florida Department of Education.
On May 23, the Florida Department of Education updated its Principles of Professional Conduct for the Education Profession in Florida.
"Florida educators should be guided by the following ethical principles," the guidance document states. It continued:
[An instructor] shall not intentionally provide classroom instruction to students in grades 4 through 12 on sexual orientation or gender identity unless such instruction is either expressly required by state academic standards . . . or is part of a reproductive health course or health lesson for which a student's parent has the option to have his or her student not attend.
Florida Gov. Ron DeSantis signed House Bill 1069 on May 17, amending Florida law to restrict instruction on "sexual orientation or gender identity" from kindergarten through eighth grade unless required by Florida law.
HB 1069 further required that if "such instruction is provided in grades 9 through 12, the instruction must be in a manner that is age-appropriate or developmentally appropriate for students in accordance with state standards."
In January, the DeSantis administration and the College Board sparred over the content of an Advanced Placement course in African American studies.
The College Board wanted to test its new "African American Studies" course on Florida students until DeSantis shut it down, The Fix reported. "The issue is that we have guidelines and standards in Florida, and we want education, not indoctrination. If you fall on the side of indoctrination, we will decline," DeSantis had said.
"Queer theory is not black history," the conservative Republican said. "Now, who would say an important part of black history is queer theory? That is somebody pushing an agenda on our kids."
Soon after, the College Board announced it "will release an updated version of its Advanced Placement course in African American studies," according to The Hill.
"We have learned from our mistakes in the recent rollout of AP African American Studies," the AP Psychology announcement stated. "[We] know that we must be clear from the outset where we stand."
The Fix emailed the College Board for comment on June 21 and has not received a response.
MORE: Gov. DeSantis signs law to defund, eliminate universities' DEI programs
IMAGE: Governor Ron DeSantis/Facebook
Like The College Fix on Facebook / Follow us on Twitter