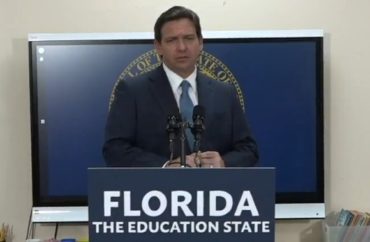 Governor rightly asserts his authority over education in the state
Florida Gov. Ron DeSantis showed again with his latest victory over the College Board and its woke Advanced Placement courses that he is the captain of the state.
The College Board wanted to test its new leftist "African American Studies" course on Florida students, until DeSantis shut it down.
The class is not just about black history – the AP U.S. History course covers that already. Instead topics included critical race theory and "black queer studies" and highlighted leftist views, according to The Florida Standard which reviewed the curriculum.
"The issue is that we have guidelines and standards in Florida and we want education not indoctrination. If you fall on the side of indoctrination we will decline," DeSantis said recently.
"Queer theory is not black history," the conservative Republican said. "Now who would say an important part of black history is queer theory? That is somebody pushing an agenda on our kids."
Soon after Florida said no to the woke curriculum, as it violated state law, the College Board announced it "will release an updated version of its Advanced Placement course in African American studies," according to The Hill.
This is just the latest victory for DeSantis over Big Education, the educational establishment.
He also recently won in his request that Florida public universities, paid for by taxpayers, share how much money they spend on CRT and "diversity, equity and inclusion" programs. The ACLU, which once supported government transparency, tried to get a judge to block the request, but failed.
The subsequent reporting found millions of dollars spent on the woke agenda, as recently reported by The Fix.
For example, the University of South Florida spent $1.2 million on its diversity and inclusion office. The University of Central Florida allocated nearly $4.5 million for its DEI programming.
Gov. DeSantis has every right, and in fact an obligation, to protect Florida students and taxpayers from being taken advantage of by Big Education and the diversity industry.
Governors should ensure taxpayer money is being well spent and that students are learning facts, not political opinions.
MORE: DeSantis criticizes schools that teach CRT
IMAGE: Governor Ron DeSantis/Facebook
Like The College Fix on Facebook / Follow us on Twitter