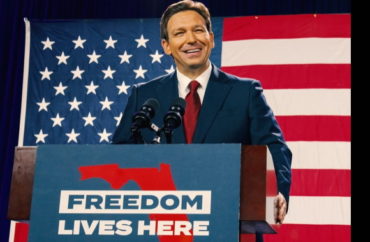 Florida Gov. Ron DeSantis on Monday signed into law a bill that outlaws spending on diversity, equity and inclusion programs at public colleges and universities, saying at a news conference the "whole experiment of DEI is coming to an end in the state of Florida."
The sweeping legislation, HB 999/SB 266, states public institutions "may not expend any state or federal funds to promote, support, or maintain any programs or campus activities that … advocate for diversity, equity, and inclusion, or promote or engage in political or social activism."
It's one of three bills the governor signed Monday as part of an overall education reform package.
At the news conference, DeSantis said SB 266 will "reorient our universities back to their traditional mission, and part of that traditional mission is to treat people as individuals, not to try to divvy them up based on any type of superficial characteristics."
"We are going to elevate merit and achievement above identification with certain groups," the Republican governor added, calling DEI programs an attempt to "impose orthodoxy."
"This has basically been used as a veneer to impose an ideological agenda," he said, adding that the way it's been implemented in higher education across the country, DEI better stands for "discrimination, exclusion and indoctrination — and that has no place in our public institutions."
The new law also tackles the curriculum, stating general education courses "must be based on the fundamental truth that all persons are equal before the law and have inalienable rights."
Lessons may not teach identity politics or be "based on theories that systemic racism, sexism, oppression, or privilege are inherent in the institutions of the United States and were created to maintain social, political, or economic inequities," the law states.
With that, critical race studies are expected to take a hit in the Sunshine State.
"What this bill is saying is some of these niche subjects like critical race theory, other types of DEI-infused courses and majors, Florida is getting out of that game," DeSantis said. "If you want to do things like gender ideology, go to Berkeley, go to some of these other places, that's fine."
Florida Eliminates DEI in Higher Education https://t.co/AAUiXPgqPI

— Ron DeSantis (@GovRonDeSantis) May 15, 2023
The new law also gives the ultimate power to each university's president to hire faculty, enacts post-tenure reviews, and forbids so-called political litmus tests for students and professors by banning mandatory DEI statements in hiring and admissions.
"Who ultimately runs the university, a kind of cabal of faculty, or is it the president and the board of trustees," the governor said Monday, adding it's the latter because they are more accountable to the residents and taxpayers.
"Presidents can now make direct hires," he said, emphasizing that they don't need to get permission from faculty hiring committees. He argued this will allow campus leaders to recruit top scholars to their schools and protect "great talent."
The bill also allocates millions to new civic education programs at key campuses.
After introducing the bill in late February, Florida state Rep. Alex Andrade argued Republican voters in Florida have sounded the alarm about the issue of liberal bias in academia, prompting legislators to take action.
"Conservative voters have told us for years that college campuses have been far too focused on political indoctrination and not enough focus has been on preparing students for the real world," Andrade said. "This is really serious."
The new law has drawn mixed reactions from free speech groups, some of whom argue it goes too far in restricting speech on campuses.
Joe Cohn, legislative and policy director for the Foundation for Individual Rights and Expression, said it stifles free expression at Florida's colleges and universities.
"The Supreme Court has been consistent over six decades that no idea is so abhorrent that the government may ban it from being discussed in college classrooms. No amount of wishful thinking on the legislature's part is going to convince the courts that the government may shield adults who are voluntarily enrolled in college classes from ideas it wants to suppress," Cohn told The College Fix in an email last week.
However, Heritage Foundation scholar Adam Kissel argued that the steps taken by DeSantis and the state legislature are long overdue.
"SB 266 is a truly excellent bill," said Kissel, who worked under former Education Department Secretary Betsy DeVos.
"The state is properly exercising its prerogative to ensure a high-quality general education curriculum at public colleges and universities and to prohibit unlawful discrimination," Kissel told The Fix in an email. "This legislation, including the civic education it envisions, positions Florida college students to lead the nation in civil discourse and informed citizenship."
Under the newly established post-tenure review process, which takes place after five years of employment, campus leaders will consider scholars' accomplishments and productivity, performance metrics, evaluations, ratings, recognitions and compensation considerations, "as well as improvement plans and consequences for underperformance," the law states.
In addition to SB 266/HB 999, DeSantis also signed House Bill 931, which requires universities to host debate panels in which conservative and progressive speakers discuss major public policy disputes. 
"Students will get used to hearing from conservatives, as well as from progressives. In the process, they will learn about the substance of our disagreements, while also coming to appreciate the value of respectful debate," Stanley Kurtz, a senior fellow at the Ethics and Public Policy Center, wrote in National Review about the legislation.
It also prohibits the forced use of diversity statements as a condition of furthering employment opportunities for college faculty.
DeSantis also signed into law an expansion of technical and vocational career pathways for students, including hosting career fairs.
"We are in this bill requiring each … school district to ensure that every high school student has access to at least one work-based learning opportunity," he said.
MORE: Tenured professors can be fired under new Florida board ruling
IMAGE: Facebook screenshot
Like The College Fix on Facebook / Follow us on Twitter