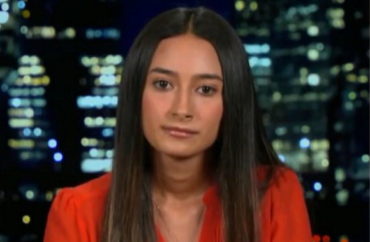 First-generation college student denied medical exemption despite severe side effects from COVID vaccine: 'I hope my story brings awareness and encourages others to fight for their freedom'
A college in upstate New York denies expelling a student for refusing to get a COVID booster shot for medical reasons — although the student was unenrolled from classes and removed from campus housing.
A self-described first-generation Mexican college student, Diamond "Ellie" Puentes, told The College Fix that Union College, a private liberal arts college in Schenectady, is portraying her expulsion as voluntary.
"Union College has just been lying to their friends in the media claiming that I haven't been expelled. They are trying to label this as a voluntary withdrawal; however, none of this is voluntary. If I had a choice I'd be in school receiving an education and not at home left with nothing," Puentes said in an email May 9 to The College Fix.
A Union College official declined to comment to The College Fix regarding Puentes' specific situation.
"All students, faculty and staff are required to be vaccinated and boosted, with exceptions only being made for individuals who have been granted a medical or religious accommodation. An individual who chooses not to comply with our policy is not allowed on campus until they meet the requirement," campus spokesman Phillip Wajda told The College Fix via email.
Wajda said the university "can state emphatically that no students have been expelled for refusing to get a booster shot."
Puentes said she did have a medical exemption for the booster shot that campus officials still rejected, and has supplied documentation to media outlets to support that assertion.
She told The Fix that she pays for her education on her own and relies on a generous scholarship from the college. Puentes previously communicated to the Chicago Thinker that she believes it was easy for Union to let someone like her go based on these circumstances.
Puentes sought a medical exemption from the booster shot due to negative side effects from her second COVID vaccine. The sophomore tried contacting multiple faculty and staff members at Union before being forced to leave campus, she said.
"So for prioritizing my health, they expelled me, they un-enrolled me from classes, they kicked me off my on-campus housing, gave me 72 hours to leave on top of declining my food card, and now I'm not even permitted back on campus. So, it's why I'm choosing to take a stand," Puentes said May 6 on "Tucker Carlson Tonight."
In her communication with faculty and staff republished by the Chicago Thinker, Puentes cited her past hospitalization following her second dose of the COVID vaccine in September 2021 as grounds for an exemption. The pre-med biology student also referenced her continuing health problems since then.
Puentes had congestion, coughing and a sore throat one day after getting the second shot last fall. She then visited the emergency room less than 10 days later with vomiting, diarrhea and a sharp pain in her upper abdomen, she told the Thinker.
Diagnosed with gastritis during her hospitalization, Puentes said that she still experiences negative health problems such as vomiting and diarrhea. She sent documentation of her gastritis diagnosis to Union College's Wellness Center on March 27.
The next day, Puentes received an email that the evidence she submitted did not exempt her from the booster shot.
Puentes said she had another attack of symptoms after her initial request was denied. When she visited the Wellness Center for treatment, Puentes said that Union College's Director of Health Services Angela Stefanatos asked her, "Are you here because you don't want to get the booster or because you're truly sick?"
Dr. Thomas Nelson, Puentes' primary care physician, wrote a letter addressed to the college on April 11 regarding his patient's concerns with the booster shot. He stated that Puentes was "in an unfavorable state of health, presumably caused by the vaccine itself."
In response to Nelson's advice that the vaccine was "ill-advised," Stefanatos stated via email that "the vaccine is not associated with gastritis," according to copies of the email discussion obtained by the Thinker.
But Pfizer has confirmed that other patients had similar gastrointestinal reactions to the vaccine during a phone call with Puentes, the 20-year-old said during her interview on "Tucker Carlson Tonight." The Thinker also cited two studies with evidence supporting gastritis as a side effect following COVID vaccination.
The April 13 email from Stefanatos concluded with a warning: "Please be advised that this decision is final. Please be further advised that any student who is denied an exemption and fails to comply with the COVID-19 vaccination requirement will be subject to conduct action."
Two days earlier, Puentes had received an email stating that she had 72 hours to move out of her dorm and that she would be unenrolled from her classes, the Thinker reported.
Puentes also tried emailing her dean, Fran'Cee Brown-McClure, and the president of Union College, David Harris. Her separate requests for meetings were both denied.
Harris responded to Puentes' email with just three sentences: "Dean Fran-Cee and I just spoke. I know that we have tried to work with you on this. I do hope that you will choose to continue your education at Union."
After Puentes was forced to leave campus, Union appeared to avoid labeling the incident as an "expulsion."
A friend of Puentes started a fundraiser on the crowdfunding website GoFundMe on April 28 to help Puentes raise money for "proper legal assistance" and to replace the nonrefundable tuition that she lost for the spring term, according to the description of the fundraiser.
GoFundMe paused donations without explanation, causing the fundraiser to move to a Christian platform called GiveSendGo.
Puentes told The Fix that she has not heard from the Union administration since leaving. She is searching for a college that values her as a person, values her education and values her freedom of bodily autonomy, Puentes said.
"Never in my life would I have thought that for prioritizing my health I would lose the one thing I've worked so hard for as a first-generation student, my college education. However, this isn't just about me. This is everyone's fight," Puentes said in her email.
"I have been receiving a lot of responses from people going through similar situations—people losing their jobs, other students being expelled—I hope my story brings awareness and encourages others to fight for their freedom."
MORE: Law professor on paid leave for rejecting mask, vaccine, testing mandate
IMAGE: YouTube screenshot
Like The College Fix on Facebook / Follow us on Twitter