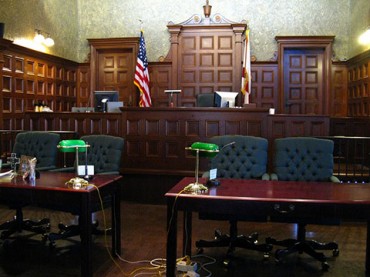 Maybe the 2015-2016 school year will be known as the Year of Due Process for students accused of sexual misconduct, rammed through kangaroo-court proceedings, and then made whole in a real legal proceeding.
Middlebury College just got rebuked by a federal judge who ruled that its hearing-free expulsion of a student – who had already been cleared of sexual-misconduct allegations made during a study-abroad program – was likely a breach of contract.
The judge entered a preliminary injunction against the school, preventing it from expelling the student, citing the irreparable harm he'll face. The student, who remains anonymous, stands to lose an $85,000-a-year job offer if he doesn't graduate from Middlebury.
Plus:
The Court finds Plaintiff has demonstrated a sufficiently serious question regarding whether Middlebury violated its policies in conducting a second investigation of the charge of sexual assault against Plaintiff after he was exonerated by one U.S. institution following an investigation and hearing.
Here's what happened, as summarized by the Foundation for Individual Rights in Education (FIRE):
According to the plaintiff, he was accused of sexual misconduct by a non-Middlebury student while on a study-abroad program in the fall of 2014. Using its own policies and procedures, the study-abroad program held a hearing on those allegations and found the student not responsible. Middlebury was informed of all of this, and the student returned to campus in January 2015. The plaintiff alleges that after learning that the complainant planned to file a complaint with the Department of Education's Office for Civil Rights (OCR), Middlebury opened a new investigation into the allegations and, with no hearing, found him responsible and expelled him.
More evidence that the unhinged pursuit of imagined wrongdoing by the Office for Civil Rights is incentivizing schools to forsake justice and reach predetermined conclusions against accused students.
The judge notes that Middlebury didn't consider this student a threat in the least – remember, his accuser isn't a Middlebury student and it only launched an investigation when it feared an OCR investigation:
Plaintiff was permitted to return to classes on the Middlebury campus in January 2015, following the alleged assault, and remained a student during the investigation throughout the semester. Indeed, Plaintiff remained listed on Middlebury's student record account as an "active" student enrolled in courses as of September 11, and Middlebury recently billed Plaintiff for the fall 2015 semester. This course of action, and lack of restriction on Plaintiff's conduct while on campus, indicates Middlebury does not view Plaintiff as a threat to the Middlebury community.
In a passage that Rep. Jared "Expel the Innocent" Polis, D-C0lo., would do well to read, the judge says the consequences of being expelled are much worse than losing one well-paying job: The student will lose his senior year, delay his degree and his start date for work, and "have to explain, for the remainder of his professional life, why his education either ceased prior to completion or contains a gap."
FIRE notes that Middlebury is showing "jaw-dropping hypocrisy" by asking the judge to require the student to show "a clear or substantial likelihood of success on the merits," in order to get the injunction:
Middlebury College, which is willing to brand students as rapists without a hearing and using a low, "preponderance of the evidence" standard, asked the court to use a higher standard than is ordinarily required to rule on the preliminary injunction. And Middlebury can't simply blame OCR for their low evidentiary standard—although OCR does now require colleges to use the preponderance standard, Middlebury was already using it prior to that mandate.

So when it's a student's future at stake, the lowest standard of evidence, without so much as a hearing, is just fine for Middlebury. But when its own interests are at stake—well, that's a different story.
Read the ruling and FIRE's analysis.
Like The College Fix on Facebook / Follow us on Twitter
IMAGE: Clyde Robinson/Flickr