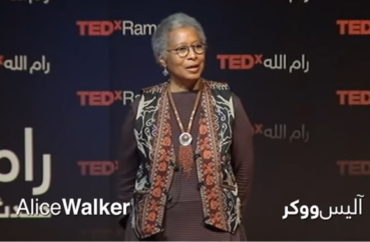 The San Diego Community College District has canceled an investiture slated for May 31 to celebrate its new chancellor, Carlos Cortez. The reason cited is the planned keynote speaker, author Alice Walker, who has written several antisemitic pieces over the years.
"Over the past few weeks, concerns have been expressed about the political beliefs and writings of the investiture keynote speaker, Alice Walker. At the same time, others have expressed their support of Ms. Walker. As a district that celebrates inclusion, we believe the best way forward would be to cancel the event altogether. I apologize for the pain caused to any member of our community. The investiture scheduled for May 31 will not be held," the district announced Monday.
Walker is best known as the author of the 1982 novel "The Color Purple." Her more recent writings, however, advance and support highly antisemitic tropes, troubling misrepresentations of Jewish beliefs, and conspiracy theories, argued some San Diegans who voiced concern over her selection in recent weeks.
"Those kind of views go beyond simply exchanging ideas or differences of opinion. They're hateful and dangerous, and community leaders like Cortez and SDCC have a moral obligation to not allow those views to go unchallenged," wrote San Diego Union-Tribune columnist Charles Clark on May 13.
"I'm not sure what values or culture Cortez and SDCC think they're creating by bestowing someone like Walker with the honor of that platform. It sends a disheartening message to members of our Jewish community, and I'd argue it calls into question how seriously leadership takes bigotry in other forms," Clark wrote.
San Diego State University English Professor Peter Herman also weighed in, arguing in the Jewish Journal on May 16 that Walker is a "conspiracy theorist" and likened inviting her to inviting a white supremacist.
"Now, one would think that at a time when the slightest hint of racism is enough to sink a career or get one fired, Walker's unapologetic adherence to antisemitism would disqualify her from speaking at a college campus. But the response to the wave of protest to her invitation shows that David Baddiel is exactly right when he titles his book, 'Jews Don't Count.' Baddiel's point is that among progressives, antisemitism 'is not real racism, or that it is a lesser form.' So when antisemitism pops up, it's either ignored or discounted as something minor. That perfectly describes the response to Walker's antisemitism," Herman wrote.
Initially, the college district had stood by its invitation of Walker, stating that while it does not agree with everything she has published, Walker is a Pulitzer Prize-winning author and the district supports free speech and diverse ideas.
Asked by The College Fix if the decision to cancel the event is an example of cancel culture, Professor Herman said via email he does not think it is.
"To my knowledge, nobody demanded that Walker's speech be cancelled, and certainly, nobody asked for the entire event to be cancelled. The Community College District came to this decision on their own, so they own it," Herman said.
"Nonetheless, I think they still need to think hard about why they invited Walker in the first place, and why they chose to overlook her antisemitism and devotion to conspiracy theories."
MORE: UChicago editors remove op-ed denouncing antisemitism
IMAGE: YouTube screenshot
Like The College Fix on Facebook / Follow us on Twitter