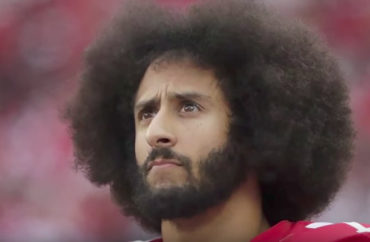 A private Missouri college has stopped using athletic gear from Nike due to its controversial new ad featuring former NFL quarterback Colin Kaepernick.
The small Christian College of the Ozarks announced in a news release it was scrapping Nike-made uniforms "and anything else that displays the Nike 'swoosh' logo."
"If Nike is ashamed of America, we are ashamed of them," college president Jerry C. Davis said in a written statement. "We also believe that those who know what sacrifice is all about are more likely to be wearing a military uniform than an athletic uniform."
According to The Chronicle of Higher Education, the school had revised its sports contracts last October noting that "all participating coaches and players 'show respect for the American flag and national anthem.'"
Marci Linson, vice president for patriotic activities and dean of admissions, said that "Nike is free to campaign as it sees fit, as the college is free, and honor-bound by its mission and goals, to ensure that it respects our country and those who truly served and sacrificed."

Kaepernick and other prominent athletes who kneel during the anthem have repeatedly said that they do not mean any disrespect to members of the U.S. military.

Nike's ad campaign has galvanized supporters and critics alike on social media. One such critic gained internet notoriety for cutting off the Nike swooshes on his socks.

The college had already refused to compete against any teams with players who took a knee. And over the same issue, the National Association of Intercollegiate Athletics, in which the College of the Ozarks competes, agreed to the college's request to move the 2018 men's Division II basketball tournament to a venue other than the College of the Ozarks.
The report notes the college requires all freshman to take the course "Patriotic Education and Fitness" which features the study of "tying knots, map reading, and the formation of American government and politics."
MORE: College investigates photo of white man dressed as Colin Kaepernick
MORE: Disruptive student protesters beg Colin Kaepernick for help
IMAGE: YouTube
Like The College Fix on Facebook / Follow us on Twitter