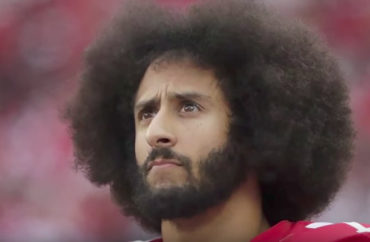 Reed College demonstrators ask athlete to join their sit-in
Student protesters at Reed College engaged in an aggressive occupation of administrative offices at the school are now facing punishment for their 48-day sit-in and have turned to former NFL player Colin Kaepernick in a plea for help.
"I am writing to you because the black students and allies at Reed College in Portland, Oregon, are in desperate need of solidarity," a student leader for the protest group, Reedies Against Racism, wrote in the Dec. 5 open letter to the former football player.
The four dozen or so student protesters demand that the school divest from Wells Fargo bank, citing its profit from prisons and support of the Dakota pipeline. Their occupation includes sleeping in tents and on couches and floor mats in the president's office, hallways, and even the faculty lounge, according to the group.
The students now face punishment for their lengthy sit-in that in late October even prompted officials to place no-contact orders against some of its members after they allegedly harassed a treasurer's office staff member and blocked the office's employees from doing their jobs.
The group's stand against Wells Fargo is the latest demonstration by the group, which has been active on campus for more than a year and whose members interrupted the lecture of a humanities class earlier this semester to protest the mandatory Western Civilization course because it assigned too many books by white authors.
Their list of demands, posted on their website, also call on officials to avoid calling the police on them. They also want emergency reparations grants for black students experiencing financial hardship and a "Students of Color Dorm & Center," among other demands.
Reedies Against Racism told The College Fix in a Facebook message that their occupation of Eliot Hall and President John Kroger's office continues, and that they face community service hours, suspension or expulsion as a result, among other possible sanctions.
"[P]unishments for students involved range from community service to threats of suspension/expulsion (based off of levels of involvement)," Reedies said, adding that the Reed College Student Judicial Board will mete out punishments.
Meanwhile, campus spokesman Kevin Myers told The College Fix that officials are weighing the group's demands.
"The investment committee of the board of trustees met at the end of November for their regularly scheduled meeting. The committee continues to deliberate about the request. They have suggested they will communicate their decision within a few weeks," Myers said via email
Reedies reached out to Kaepernick to plead for help.
"Your presence at our school will inspire, and most importantly, inspire the people of color here. You took the knee and you were pushed out of your sport, your career for it, and though you not might be rising in your career as a football player, you are rising and you bring our people with you. I am humbled by your sacrifices and your dignity in our race," their open letter states.
"You coming to our school (maybe even staying the night with us?), and personally telling our small, but majestic community of color what taking a knee meant to you would give them desperately needed hope," it adds.
Reedies Against Racism has also denied harassing college employees, and that attempts to paint their actions as harassment are "a disingenuous and racist tactic of the administration to paint students of color in this way," according to their website.
MORE: Aggressive Reed College student sit-in shuts down school's finance office
MORE: Students protest mandatory humanities class studying 'predominantly white authors'
Like The College Fix on Facebook / Follow us on Twitter