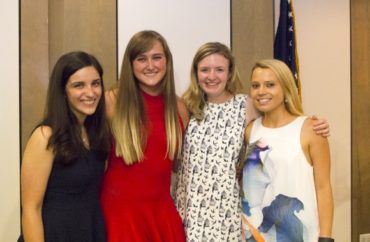 This summer, five smart and talented undergrads enjoyed an opportunity to report for some of the most respected and well-read publications inside the beltway as part of The College Fix's journalism internship program.
After more than two months of intensive, hands-on experience reporting alongside venerable names in D.C. media, these five college students have gained invaluable experience, exclusive networking connections and an excitement to continue in the field of journalism.
Congratulations to Jeremy Beaman, Sophia Buono, Hannah Long, Sumner Park and Amanda Tidwell for their fantastic work this summer. They each worked very hard and produced some excellent articles during their fellowships.
Here's a highlight reel showcasing some of their clips: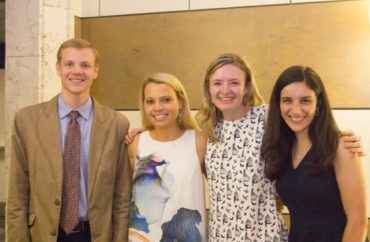 Beaman, who attends the University of Mobile and worked at the Washington Examiner, racked up a nice clip stack, including:
'This generation's Watergate': Watching history unfold over White Russians at Shaw's Tavern
Rand Paul is going to war with his own party
Buono, a student at the University of Notre Dame, spent her summer at USA Today. Her bylines include:
California's travel ban is an attack on religious freedom
I voted for Donald Trump to save lives
Long, a student at Emory & Henry College, spent her summer at the Weekly Standard, producing headlines that include:
Doctor Who vs the Social Justice Warriors
Evangelicals Voice Opposition to Deportations of Iraqi Christians
Park, a student at the University of North Carolina Chapel Hill, worked at The Hill, producing a wide variety of articles, including:
Humane Society pushes bills to connect wounded vets, service dogs
Most states refusing to provide voter data to Trump election panel
Tidwell, an Ohio State University student who interned at the Daily Caller, kept busy this summer with plenty of posts, including:
Mother Of Disabled Obamacare Victim: 'Trump Didn't Snub My Son, Congress Did'
Common Core Crisis: NY Students Failing State Math Test At Alarming Rate
Congratulations to each College Fix journalism fellow for a stellar summer reporting in our nation's capital. We are excited to see your young and promising careers flourish and to help in any way we can.
For a full list of our journalism fellowship alumni, click here.
For more information about our internship program, click here.
To make a tax-deductible donation to help The College Fix continue its mission, click here.
Like The College Fix on Facebook / Follow us on Twitter