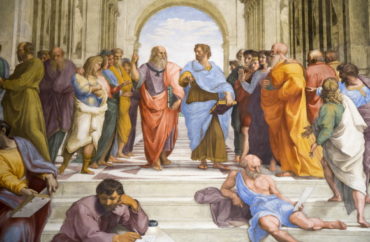 Society must have 'capable' and 'knowledgeable' individuals, founder says
A new college that will lean on the Great Books canon and aim to foster "freedom" and "self-reliance" in students is set to open next year.
Reliance College, based in Chicago, aims to help "young people become self-reliant" according to Marsha Enright, the president and founder.
"We believe freedom depends on a society having an active minority who are capable, knowledgeable, and willing to defend their freedom," Enright told The College Fix via email.
She currently runs the Reason, Individualism, Freedom Institute. The new college will also use the principles of Maria Montessori.
The Montessori method recognizes that learning is a self initiated process and students learn best when they can engage with the wider scope of human affairs and are equipped with practical knowledge.
"We ask big questions about the origin of the universe and life, the nature of civilizations and how they developed, and conflict, the discovery of freedom and the question of free will—and how these issues are related to everyday life and how to choose one's values and goals," Enright told The Fix. "In this way we help students discover what created our current world, and how to navigate it successfully."
"Our teaching process is one of discovery – we craft material, discussions, and work to aid the student in discovering the answers," Enright said, speaking from twenty-seven years of experience utilizing this method at Council Oak Montessori School. "The teachers are guides, not directing authorities. They don't provide answers; they coach students in how to find answers to the student's own questions by using reason and evidence to arrive at the truth."
An assistant program director reiterated the focus on creating leaders for a "free society."
"Our teaching and learning methodologies have to be consonant with our goals for a free society. People do not become free by being told that they are free," Carmen Rodriguez, assistant program director and educator, told The Fix via email. "They become responsible and free as they make choices about their lives and their education, everyday."
While the college is not yet open for enrollment, it will offer an undergraduate in liberal arts coupled with real-world experience.
MORE: Professor explains how the Great Books changed his life
"We will offer a B.A. in Liberal Arts with a unified curriculum, in which students will study major subject areas of philosophy, history, literature, science, mathematics, politics, economics, finance and more," Enright said. "Each student then specializes through a real-world problem-solving project every year."
While the Great Books of Western Civilization form the backbone of Reliance College's curriculum, students will still have the opportunity to discuss and study more contemporary works.
"It's true that the Great Books build the backbone of the Reliance College curriculum," Carrie-Ann Biondi, a curriculum advisor for Reliance College, said in an email to The Fix. She added that "the curriculum is augmented by some of the best contemporary works from a variety of perspectives across the arts and sciences as well as business and entrepreneurship, languages and professional writing, and practical internships."
"By studying the great books, students can gain a deeper understanding of the human condition, including issues related to love, mortality, justice, and ethics," Rodriguez, the assistant program director, said. "By engaging with these ideas, students can develop their own views and opinions, rather than simply accepting what they are told."
"Without doubt, learning how something works before wanting to change it is key to creating powerful and meaningful innovations that ultimately help humanity flourish," she said.
Biondi, the curriculum advisor, shared with The Fix how the liberal arts focus of the university will work with STEM fields to educate well-rounded students.
"STEM without the liberal arts would be like technology without humanity: impossible or dangerous. No creations in the STEM fields are possible without individuals who examine, question, think, and experiment," Biondi said. "No maintenance of or innovations in STEM fields will occur without those who understand what has been created, how to sustain those creations, or develop beyond them to tackle new problems humanity is faced with."
She said that liberal arts education provides people with the "intellectual capacities and moral judgment" to "know how to evaluate and wisely use current and emerging technologies–or whether some technologies are worth developing to begin with."
A classicist unaffiliated with the university shared similar thoughts.
"Studying the liberal arts and the great books teaches us to observe more closely, think more rigorously, and speak more exactly," Franciscan University of Steubenville Professor Theodore Harwood said in an email to The Fix. "These qualities aren't just valuable because they make us finer tuned and better greased cogs in the economic machine, but because they make us better as human beings and help us to order our lives to pursue what is really good."
"They make life fuller—or rather, make us realize how full life and human activity and all the universe is," Harwood said.
MORE: Scholar explains 'why we must teach Western Civilization'
IMAGE: Serato/Shutterstock
Like The College Fix on Facebook / Follow us on Twitter