Angelique Clark understands the power of art. It can move people. It can start conversations.
Clark, who recently won first place in The College Fix's editorial cartoon contest, has used her creative talents to earn other accolades, too.
She is also a recent recipient of Students for Life of America's new Post-Roe Generation Accelerator grant, which supports big ideas to shape the pro-life movement.
Clark, 23, is the founder of Life Dress, a nonprofit that describes itself as dedicated "to abolishing abortion through mind-changing conversations – all sparked by what we wear."
The organization offers hand-painted pro-life apparel — painted by Clark — with messages on equality for the preborn, loving both mother and child, and pro-life feminism, among other topics, she said.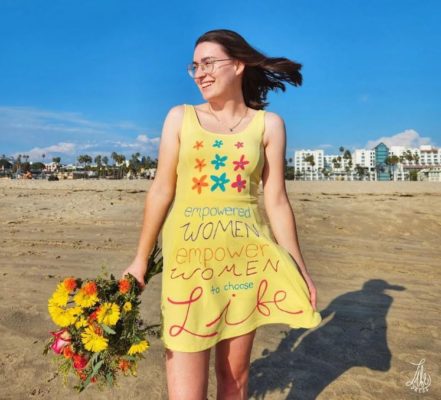 It all started with hand-painted dresses, then she moved to jean jackets, ties, jeans, bags, skirts, and "pretty much anything you can wear," she told The College Fix in a telephone interview.
Clark earned a bachelor's degree at the University of Nevada, Las Vegas. As an undergrad, she was a student reporter for The College Fix.
She majored in journalism and media studies, she said, because she wanted to study ways in which to spread her message to the masses.
"When I learned what abortion was, I came face to face with the reality of it, and I came to realize I had to dedicate my life to end abortion," she said.
It started in high school, when she sued her Las Vegas-based school district in 2015 for its refusal to allow her to start an anti-abortion campus club. She quickly won the lawsuit three days after it was filed and her school acquiesced, she said.
But her Life Dress message moves far beyond the typical pro-life talking points.
"There is something I call the Human Rights Injustice Trifecta — the fast-fashion industry, human trafficking, and the abortion industry," she said.
The fast-fashion industry mostly involves a high population of women working in poor countries in factories with low wages.
"A lot of the times these women are told 'You can't have children' or 'You can't have more children,' and they're forced to have an abortion," Clark said, adding they're also often human trafficking victims.
With that, she draws her creations on clothing that is thrifted, or second hand, thus bringing awareness to and tackling all three issues in one fell swoop, she said.
"That's what Life Dress is all about, using art to start conversations," she said.
Since the launch of her nonprofit, she has met many women who have come from that "trifecta," and it fuels her mission, she said.
"I've met people who have gone through horrible situations, who have been lied to by the abortion industry, I have met so many people that have been impacted by this human rights injustice — it just fuels me to do the work that I know needs to be done," she said.
Click here to read more about Clark and view her first place editorial cartoon.
MORE: Three budding artists win College Fix editorial cartoon contest: here are their entries
IMAGES: Life Dress / Instagram 
Like The College Fix on Facebook / Follow us on Twitter