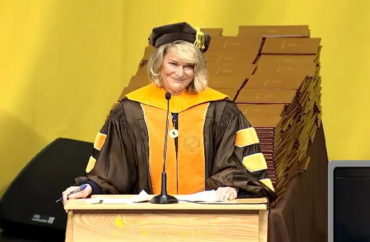 Republican U.S. Sen. Cynthia Lummis — the first female senator ever elected to represent Wyoming — was booed by college graduates during her commencement address for saying there are two sexes.
"There are those in government who believe not that the creator endowed us with inalienable rights, as the founders of our nation acknowledged in the Declaration of Independence, but that government created those rights and that government should redefine those rights, including our rights to freedom of speech, religion, property, assembly, and to keep and bear arms," she said toward the end of her nearly 20-minute speech Saturday.
"Even fundamental scientific truths, such as the existence of two sexes, male and female, are subject to challenge these days."
In response, the "crowd erupted with boos and heckling, and, in response, Lummis interjected, 'I'm not making a comment on the fact that there are people who transition between sexes,'" Fox News reported.
But there was also a smattering of applause during the booing, Oil City News reported, adding "Lummis grinned during much of the delay, beginning to say something during the pause before eventually returning to her speech."
She quickly gained back many in the audience, however, in her next sentence.
"I personally question, how under our constitution, we could forbid in-person worship services during a pandemic while labeling liquor stores as essential and keeping them open," the Republican senator said to applause.
The graduating seniors also seemed to have no problem with Lummis when, at the beginning of her speech, she had said "wherever you wind up, remember — the world needs more cowboys," prompting clapping and some cheers, according to a video of the speech.
At the end of her speech, she was also given a hearty round of applause and cheers from the audience, the video showed.
The senator has extended an apology to those who were offended by her "two sexes" comment.
"A spokesperson for Lummis responded to a request for comment Sunday, with the senator saying through a statement that she was apologizing to those who felt 'un-welcomed or disrespected' by the comments," the Oil City News reported, adding:
"My reference to the existence of two sexes was intended to highlight the times in which we find ourselves, times in which the metric of biological sex is under debate with potential implications for the shared Wyoming value of equality," the statement read.

"I share the fundamental belief that women and men are equal, but also acknowledge that there are biological differences and circumstances in which these differences need to be recognized. That being said, it was never my intention to make anyone feel un-welcomed or disrespected, and for that I apologize. I have appreciated hearing from members of the University of Wyoming community on this issue, and I look forward to continuing this dialogue."
Lummis was sworn into the United States Senate on January 3, 2021, "becoming the first woman to serve as United States Senator from the great State of Wyoming," her bio states.
She also served in the U.S. House of Representatives and was a founding member of the House Freedom Caucus.
MORE: GWU Law School commencement speaker attacks Professor Turley in speech
IMAGE: YouTube screenshot / University of Wyoming
Like The College Fix on Facebook / Follow us on Twitter