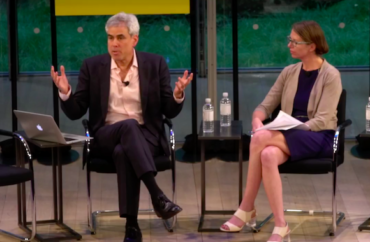 Faculty can also learn skills to 'turn down the heat' before disagreements ruin reputations and careers
Heterodox Academy, a nonprofit coalition of university leaders dedicated to intellectual diversity on campus, released September 12 a draft best practices guide for college leaders to promote free speech and viewpoint pluralism.
It is now a truism that on American campuses students self-censor and professors overwhelmingly lean left.
The educators running Heterodox Academy hope to change the campus climate to give those who have been silenced opportunities to speak out.
"At Heterodox Academy (HxA) we believe the culture can change by embracing open inquiry, viewpoint diversity, and constructive disagreement," the guides' authors stated.
Contributors to the document include Roslyn Artis, president of Benedictine College and Michael Roth, president of Wesleyan University.
The authors addressed the guide to those "already committed to HxA [Heterodox Academy]" values who want practical advice for fostering a culture of free expression.
The guide is divided according to three areas of campus influence: institutional affairs, for college presidents and other major administrators; student affairs, for campus group leaders and academic affairs, for faculty.
The guide recommends that presidents and other top officials actively bring up concerns about bias and perspectives, such as those of conservatives, that may be lacking on campus. They should also support difficult debates that "shed light on underrepresented views," according to the guide.
The guide recommends as a particular example a debate on "the role of religious faith in intellectual inquiry and creative practice."
Additionally, "it is incumbent upon college and university presidents to ensure members of the community feel safe enough to be open to difference and not be subjected to harassment, intimidation or physical violence," according to the guide.
The authors suggested that they focus on the students who are already "inclined to be open to new perspectives" – which, studies show, means a majority of students. "70% [of students] prefer campuses to be open learning environments that allow for a wide range of views to be heard," the guides authors wrote, citing a 2020 report from the Gallup/Knight Foundation.
Student leaders should also structure as many on-campus events as possible to work as idea exchanges where unpopular views can flourish.
Faculty should recognize that Heterodox Academy's cherished values often "start and end in the classroom," and should write their syllabi and structure courses in a way that allows for "constructive disagreement," the authors wrote. They should also learn practical techniques to keep emotional reactions to comments from spiraling out of control, leading to cancelations or damaged reputations.
Social psychologist Jonathan Haidt (pictured) founded Heterodox Academy in 2015 with other academics "in reaction to their observations about the negative impact a lack of ideological diversity has had on the quality of research within their disciplines," according to the organization website. It has since grown to more than 5,000 members in 49 states and 65 countries, according to the site.
Its members have "embraced" the claim, "I support open inquiry, viewpoint diversity, and constructive disagreement in research and education."
MORE: Conservatives are self-censoring at the University of North Carolina
IMAGE: Heterodox Academy/Facebook
Like The College Fix on Facebook / Follow us on Twitter