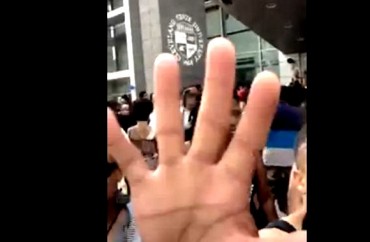 A Muslim woman of color is not the first person you'd think of as a critic of "safe spaces" on campus.
Yet Shaheen Pasha, a journalism professor at the University of Massachusetts-Amherst and former globe-trotting reporter, sees her students' demand for coddling as an "insidious" threat to their future as journalists facing constant propaganda.
Writing in MediaShift, Pasha talks about her experience with racism, stalking and angry debates in college:
College is not a safe space. It was never intended to be. It is a place where debates can turn heated and ugly and the cruel realities of the world come crashing down on students, preparing them for the very real discourse they will face upon graduation. It is a time to grow out of the protective cocoon of childhood and face the fact that the world can be an unpleasant place.
Students trying to create safe spaces – Pasha singles out protesters at Amherst College and Smith College –  are trampling on other people's rights to disagree and to even cover their protests as reporters:
The argument raised by protestors is that the media can manipulate and misrepresent the facts to create an untrue picture. I'm not debating that. I understand the concern. I am a person of color and a Muslim. That's a double whammy when it comes to representation in the media. …

The student protestors' insistence on attempting to control their message and the way it is presented is actually taking away from the credibility of their cause. … No journalist, trained in the ethics of the profession and with a sense of personal integrity, should agree to support any cause in order to report on it. Those who do need to come to my introduction to journalism class for a reality check on the profession.
RELATED: Black student newspaper blocks mainstream journalists from covering 'safe space' at Jesuit school
Her own students have walked out of class when she taught about "the horrific 2012 Delhi rape without offering a trigger warning," demanded an apology for her showing an Al Jazeera clip about the families of suicide bombers, and complained about Ferguson discussions because it "offended them as white people":
As a journalism instructor, I will be sending out the next generation of reporters to witness and report on the horrors of the world. If they cannot handle the stress of an uncomfortable class discussion, they will have a hard time in the profession. And as a college professor, I deeply respect and admire the convictions of the impassioned student activists on campus who want to create a better world. … But once the activism impedes on the rights of others and forces them to share your beliefs, well-intentioned liberalism can take on an ugly shade of authoritarianism.
RELATED: Amherst president ignores demands of protesters, while parody Twitter account foils their message
h/t Foundation for Individual Rights in Education
Like The College Fix on Facebook / Follow us on Twitter