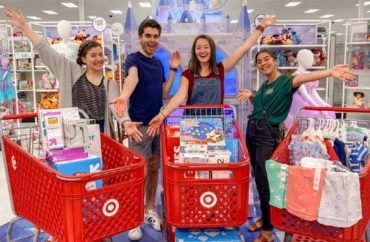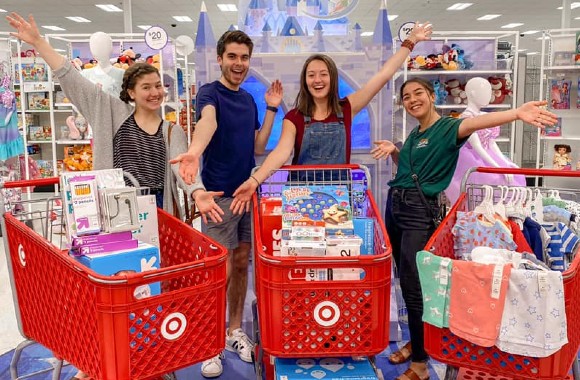 No more prior permission to speak, either
Let's hope there's no third time that's the charm.
Chemeketa Community College removed blatantly unconstitutional policies 10 years ago to avoid litigation. Inexplicably, it largely reinstated them in 2019.
Several months after a lawsuit was actually filed by pro-life student activists, the Oregon taxpayer-funded institution has removed them again to settle.
Beyond eliminating its tiny so-called free speech zones and requiring students to get permission to use them – two weeks' notice! – Chemeketa is also paying students Marcos Sanchez and Emma Howell $25,000 to cover attorney's fees.
The Alliance Defending Freedom, which represents the pro-life activists, announced the settlement Friday. It appears to have been finalized Nov. 10, however, after the Board of Education and top Chemeketa officials – 12 defendants in all – individually signed it over six weeks.
That means the settlement provisions have already taken effect. The college agreed to revise its free speech guidelines, "Release Form for speech activity" and table reservation form.
Marcos Sanchez and Emma Howell sued their college after defendant Joel Gisbert, the civic engagement coordinator, confirmed the two-week notice was required for Chemeketa Students for Life (above) to promote a debate on physician-assisted suicide and raise awareness for a U.S. Senate vote on abortion-related legislation. (College policy also confusingly said students were "encouraged" to give notice.)
Gisbert ordered them to stay in the tiny free speech zones as well. Chemeketa policy also gave officials broad discretion to define any given "free speech activity" and to halt planned activity after students told them what it was about, as required.
One of the major settlement revisions is a drastic narrowing of permission to engage in activism. The release form now only applies to indoor speech – tables set up in specified buildings – or expression "exceeding 400 persons."
"Speech activity" is now objectively defined as activities including distributing flyers, demonstrations and circulating petitions. "Spontaneous" activity is expressly permitted. The "general rules" for activism are largely limited to time, place and manner restrictions.
Students are "guaranteed only two dates" for indoor activism each academic term, but may apply for more based on availability. Counter-demonstrations must stay 50 feet away from the original demonstration outside. Security fees are not addressed, but the college exempts itself from liability for "any injuries or damages" connected to speech activity.
MORE: Chemeketa reinstates unconstitutional policies several years later
Cops can still approach students for engaging in this First Amendment activity
One of the more common forms of activism – chalking – has been explicitly banned everywhere on campus, however.
Students can be fined under Oregon law for "graffiti," regardless of how easy the substance is to remove, and law enforcement "maybe [sic] called to enforce the law." Students also face college discipline for using a "chalk like product," which is not defined.
The College Fix has asked the alliance to explain why it conceded to the chalking ban rather than negotiate for a time, place and manner restriction, such as requiring students to remove their chalking after a set time period.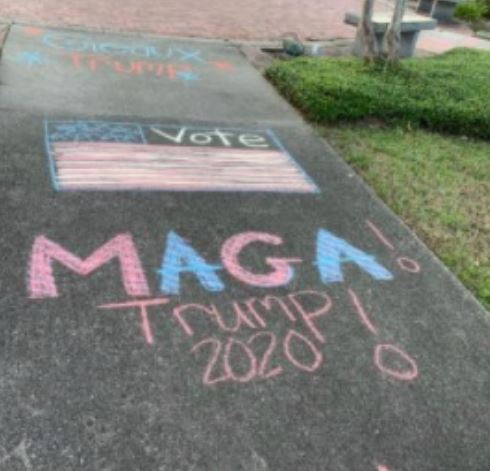 Another public college removed its chalking ban – arbitrarily enforced against pro-Donald Trump chalking (left) – shortly before the election, after its state attorney general said the ban was unconstitutional.
"Across the nation, we are seeing incredible opposition to the pro-life speech of our student leaders and volunteers as they speak for the defenseless and educate their fellow students on abortion," Students for Life of America President Kristan Hawkins said in a written statement.
"But the law and the Constitution are clear on the matter: Public schools cannot silence pro-life groups or force them to self-censor," she continued.
Chemeketa did not post a public statement on the settlement, but OPB paraphrased the college as saying that the alliance "previously agreed with the college's free speech guidelines and locations." That apparently refers to the eight years between Chemeketa's policy revisions, when it allowed spontaneous expression at least outdoors.
"However, when the students wanted more spontaneous speech in additional areas, the organization re-evaluated their position and filed a lawsuit," Chemeketa said, misstating the claims in the original May lawsuit. "We are happy to report that we collaborated with the students' attorneys to revise our existing Free Speech Guidelines to the satisfaction of all parties."
Read the settlement and alliance statement.
MORE: Nicholls State ditches chalking ban after AG says it's unconstitutional
IMAGE: Chemeketa Students for Life/Facebook
Like The College Fix on Facebook / Follow us on Twitter