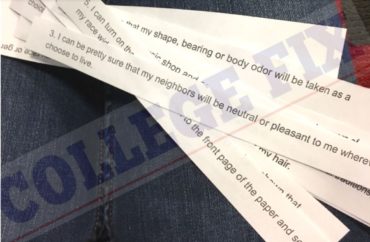 A recent college preparatory event had Michigan high schoolers count up how many privileges they experience, and at the end of the exercise white students were singled out as having the most, according to a student who attended the event.
Hosted at Lake Michigan College, seniors from Saugatuck High and Fennville High schools attended the all-day event in April. It was comprised of several 45-minute segments, one of which was dedicated to topics such as diversity, privilege and tolerance.
During this section, students played a game in which they read from multiple strips of paper which described various so-called privileges. Students who identified with a described privilege kept the strip of paper, tallying how many they ended up with once the game was over.
"I can be pretty sure that my neighbors will be neutral or pleasant to me wherever I choose to live," one strip read.
Other paper strips described privileges such as turning to the front page of the newspaper and seeing people of your same race. Another addressed body shape and odor.
A Saugatuck High School student who attended the event said one of the strips of paper said something along the lines of: "I do not have to worry while going through security."
In an interview with The College Fix, the student (who requested anonymity) also said that while the strips of paper did not mention one race in particular, the game was "definitely calling out [white privilege] more."
After the exercise finished, Caucasian students held the majority of paper strips, the student said, and faculty asked participants to count and compare how many strips of paper they each had. A handful of Latino and Black students did not have any strips, she said.
Saugatuck High principal Tim Travis said the event did not intend "to call attention to white privilege in particular." In an email to The College Fix, Travis said the learning outcomes of the activity could be described as the following:
1. Students will have a better idea of how certain aspects of their identity affect their every day lives.
2. Students will gain experience in reflecting on their personal experiences, relating to others who have had different experiences, and communicating effectively and respectfully with others who are different from themselves.
3. Students will be more prepared for an ever-diversified world where they will learn and work with a variety of people from very different backgrounds and experiences.
Lake Michigan College spokeswoman Candice Elders told The College Fix in a phone interview that LMC was the host of the event but did not contribute to its content.
MORE: Universities offer 'privilege walk' exercises so students feel bad about themselves
Like The College Fix on Facebook / Follow us on Twitter
Like The College Fix on Facebook / Follow us on Twitter