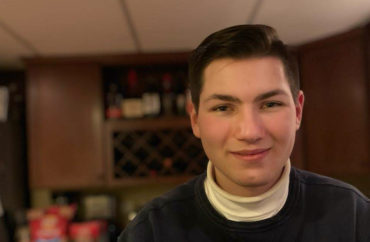 School reported him to the police after remark about 'melting snowflakes' with gun
A college student from Lake Superior State University is facing terrorism charges for posting a picture to social media last fall in which he displayed his firearm and made an apparent reference to offending anti-gun college students with it.
In August of 2019 Lucas Gerhard uploaded the photograph of his new AR-15 to a private group on the social media platform Snapchat with the caption: "Takin this bad boy up, this outta make the snowflakes melt, aye? And I mean snowflakes as in snow." Lucas had saved the money to buy the gun after a summer working at a diner, according to his father, Mark Gerhard, who spoke over the phone at length with The College Fix about the situation involving his son.
One of the members of the private group showed the photo to a young woman who was not part of it. This individual previously had political disagreements with Lucas, according to Mark Gerhard, and had been blocked from accessing his Snapchat account.
That young woman interpreted the photograph as threatening, took a screen capture of the image and showed it to school authorities out of concern that Lucas was planning to commit a school shooting.
Gerhard, a retired United States Marine of 30 years, said that that interpretation of his son's character was wildly off-base.
"Lucas is an Eagle Scout and has never been in any trouble before. He was going into his third year as a junior criminal justice law enforcement major at LSSU with the full intention of becoming involved in law enforcement in some way, with a focus on state police," Gerhard said.
No one other than the young woman who reported the picture saw it as a threat, he added. He would not share that young woman's identity, claiming it would be "inappropriate to disclose" her name. He also told The Fix that Lucas "is not at liberty to make any statements prior to the trial at the advice of his attorney."
Over two and a half months in jail
Lake Superior State University actually allows guns on campus; students can bring their weapons to a guarded armory for storage while they stay on campus.
The day after he posted the photograph, Lucas returned to the school's campus for the fall semester. He brought his rifle with him and stored it in the armory, after which he checked into his dorm room.
By this time campus authorities had been informed of the photograph and had notified local law enforcement. Officers showed up at Lucas's dorm shortly after he arrived with a search warrant for Lucas's Snapchat account.
Pointing out that the school apparently did not see Lucas as a credible threat, Gerhard noted: "[T]here was no contact by law enforcement until approximately 4-5 hours after his arrival on campus. This is well after he checked in his rifle and ammunition, received his room key and a building pass that opened virtually every door on campus."
He shared with The College Fix a copy of the search warrant; for probable cause the warrant cites the photograph in question as well as one student's testimony of Lucas's "extreme political views," though the warrant does not go into detail about those views.
Things escalated from there, Gerhard said. Off-campus police showed up again the next morning and took Lucas into custody under terroristic felony charges, claiming that he had threatened other students.
Gerhard, who had come up to the university after his son was first approached by police, initially sought help from the school after the arrest. He said Wendy Beach, the university's safety and risk management director, told him the school had nothing to do with the matter at that point.
Authorities took Lucas to jail. His bond was set at $250,000 and with a requirement to stay in Chippewa County, where he has no family or friends to stay with. He remained in jail for 83 days.
Lucas has Type 1 Diabetes and needs his glucose levels monitored as well as prescription insulin, Gerhard said. "That was our underlying concern for him while he was incarcerated there. They never ever adhered to his prescription so his glucose levels were riding way high and way low." Without his medicine, the jail's diet also made Lucas's glucose levels go "dangerously high."
Lucas was bailed in mid-November and placed under house arrest with the condition that he have no access to electronics and no weapons in the house. Gerhard said he was forced to give up his guns, knives, and any other weapons, including harmless ceremonial sabres, as part of the conditions for Lucas's return home.
School won't say why it permitted Lucas to return even though it considered him a threat
Gerhard claimed that through the arraignment, pre-trial and preliminary exam processes, university staff would be there watching and would "join up with the prosecutor and go behind closed doors" after most sessions.
University officials, including Risk Management Director Wendy Beach, did not respond to multiple requests for comment for this story. The College Fix had specifically asked why Lucas was permitted to return to campus if officials had seen the photograph and deemed him a threat prior to his return to the school.
The issue has not gone unnoticed in the state legislature. The Washington Examiner reported last month that Republican state Rep. John Reilly, in response to the controversy, has "sponsored new legislation to redefine the crime of making a terroristic threat or making false reports of terrorism."
Michigan state Representative Beau LaFave, meanwhile, expressed to The College Fix in a phone call his concern for the case.
"I think in this particular instance it's pretty clear that an individual at LSSU exercised his First Amendment right to talk about his Second Amendment right and the police, the university and everybody involved made grievous mistakes in charging him with a 20 year terrorism felony. And I think it's disturbing to have de facto red flag laws implemented by the police, the judge, the prosecutor and the university when he broke, to my knowledge, no laws," LeFave said.
Lucas's defense attorney, Nicholas Somberg, told The Fix that Lucas will file a motion to drop charges on his next court date, March 24. If that request is not granted, he will move to a jury trial in mid-April. A GoFundMe for his legal defense had as of Sunday night raised over $12,000.
Somberg expressed his concern for the implications the case has for the Second Amendment.
"If somebody calls in and says that you're an unstable person, just on the accusation alone, the police can come and take your guns from you and you have to fight to get them back, basically flipping [the concept of] innocent until proven guilty," Somberg said.
Asked about the possibility of a lawsuit against the prosecutors, Somberg said: "We have plenty of time to play offense, but right now we have to win on defense." He explained that there may be potential down the road for a lawsuit concerning malicious prosecution or violation of Lucas's First Amendment rights.
Gerhard said his son has had issues on the campus before due to his conservative beliefs, having been harassed and antagonized by his fellow students over his political views. Lucas has allegedly faced a "slew of anonymous complaints" from students, including one instance where he was accused of being a potential school shooter due to his wearing a cadet's uniform while walking to a class. Police ended up searching him and his bag over that incident.
Lucas's car was also vandalized as well, Gerhard said—a crime which he said the university barely investigated.
The college student now awaits a potential trial under his father's custody, "tethered" to Gerhard's home via a tracking device. Gerhard has tried to make things easier for his son in the meantime. "I begged them to at least allow him to get on and do some online courses so he could maintain his college credits. And they wouldn't allow it," he said.
"It's pretty insane," he added with a laugh that sounded exhausted.
MORE: Citing 'gun violence,' UVA cancels 21-gun salute portion of Veterans Day ceremony
MORE: College suspends young mother for posing with gun at gun range
Like The College Fix on Facebook / Follow us on Twitter