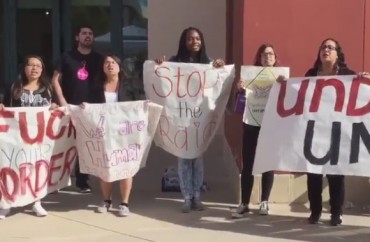 'Blatant disregard to undocumented students' safety and well-being …'
A new crusade has emerged among college students who insist on insulation from the real world – now left-liberal campus activists demand safe spaces from U.S. Customs and Border Protection agents who recruit at campus job fairs.
Protesters at several campuses in Southern California and Arizona have demanded administrators cut all ties with the federal agency, and some have protested agents' presence on campus. Students say border protection representatives make students – especially students in the country illegally – feel unsafe.
At UC Santa Barbara in late January, a parade of students boisterously demonstrated against border patrol recruiters at a campus job fair, loudly chanting "f*ck your borders, f*ck your walls." One organizer told The College Fix agents' attendance was "triggering" for undocumented students, adding "there is no space on this campus for an organization that continues to threaten the safety of students."
Last fall, after UC Irvine students circulated a petition that called on administrators to remove a U.S.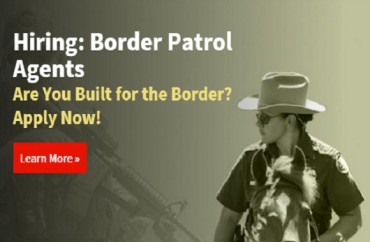 Customs and Border Protection booth from the school's fall career fair – saying officers' presence would make the campus unsafe for students in the country illegally – the agency backed out of the event.
"The recruiters felt that the opposition to their attendance could be a distraction from their recruitment efforts and they could be more successful utilizing the on-line job postings," a campus official said at the time.
The UC Irvine petition had declared "having border patrol agents on campus is a blatant disregard to undocumented students' safety and well-being." That sentiment was echoed recently by students at San Diego State and the University of Arizona, who have taken preemptive measures against border protection agents on campus.
RELATED — VIDEO: 'F*ck your borders' – Rowdy students protest border patrol agents at campus job fair
RELATED: Border Patrol backs out of campus career fair after student petition calls agency unsafe and offensive
"The university must divest any and all partnerships with U.S Customs and Border Patrol," according to demands lodged this month by a group of self-described "marginalized" students at the University of Arizona.
"Given the high militarization of the US/Mexico border in Arizona and the violence it promotes against undocumented/migrant communities, the presence of Border Patrol on campus promotes a hostile environment towards Latina/o communities," the group said.
Last week, a "Multicultural Coalition" student group at San Diego State published a demand list that included: "Bar Customs and Border Protection and Immigration and Customs Enforcement from campus grounds."
Like The College Fix on Facebook / Follow us on Twitter