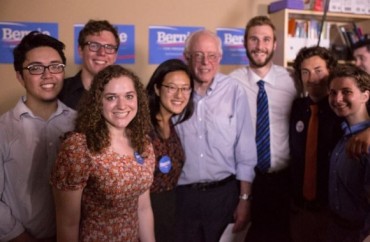 STUDENT: 'No one I know really likes Hillary Clinton at this point.'
Not all college students are Ready for Hillary.
Some 164 "College Students for Bernie" groups have sprung up in recent months on college campuses nationwide, according a chapter roster maintained by The Action Network. Students say he offers a more authentic, honest choice compared to frontrunner Clinton.
"No one I know really likes Hillary Clinton at this point," Brendan Eprile, president of the Oberlin chapter, told The College Fix in an email. "Hillary Clinton is a chameleon: she will side with the issues that she thinks will give her the best press. I think honestly, most people I know don't trust Hillary Clinton. It doesn't seem like she actually cares about the American people as a whole."
Jordan Incorvaia, president of the Penn State chapter, told The College Fix Sanders says what he believes, and what he's fighting for will help the nation.
Sanders is a self-described "democrat socialist," and some of his most popular stances with college students include advocating for a free college education at public universities, demonizing the corporate world, and decrying income inequality and racial injustice.
"We support Bernie Sanders for president for two principal reasons: his policies, and his authenticity," he said. "We find Bernie to be more in-tune with what the average American needs."
With his rumpled clothes, white hair and grandfatherly appearance, Sanders is a far cry from the hip image Barack Obama presented to young voters in 2008 and 2012. Yet students say they value Sanders' message over his looks and age.
"Age becomes meaningless when candidates emphasize the right principles,"wrote founder of College Students for Bernie Sanders Elizabeth Lee in a New York Times op-ed. "People notice a candidate's age, and may comment on it, but a number can't matter to voters the way tangible policy proposals can."
Many students have said they feel Hillary Clinton is no better than the so-called one percent she criticizes.
"Hillary Clinton professes herself as a crusader for the middle class, but her fundraising and voting record paint a different picture," wrote Scott Pine, president of UCLA's Bruins for Bernie. "In everyday life people who say one thing and do another are called liars, two-faced, phonies."
While Clinton still leads in the polls, Sanders boasts 2.1 million likes over Clinton's 1.4 million likes on Facebook—the social media outlet that, according to a Media Insight Project survey, more than 9 out of 10 millennials use.
Over the summer, at a Clinton campaign stop at Dartmouth College, the school's College Democrats were apparent no-shows at the event, The Fix reported.
Meanwhile, Sanders' supporters have mobilized in droves.
In September, both Clinton and Sanders spoke within the same week at the University of New Hampshire, where Sanders drew a crowd that was five times that of Clinton, the Washington Post reports.
"His exciting campaign has already created more hype than Obama in 2007 in my opinion," said Alex Austin, president of the University of Pittsburgh chapter, told The College Fix via email.
Clinton's fundraising also reportedly dropped 41 percent for this quarter, but Sanders raked in almost the same amount of money as Clinton, primarily from small individual contributors and without the aid of Super PACs.
"Hillary represents status quo, establishment politics, Super PACs, catering to the wealthy, and tiptoeing around the issues that matter," Austin said. "I think his [Sanders'] integrity shines through and that's what people love the most. He is not willing to trash talk other candidates or work with any Super PAC, and that's truly the change we'd all like to see in today's politics."
What's more, Sanders' self-described socialistic views have not wavered since he initially took office.
"Bernie Sanders has always been on the right side of history," Eprile said. "He was extremely involved with civil rights back in the 60s, and he hasn't stopped."
As part of the College Students for Bernie Sanders movement, students are engaging in canvassing events, registering voters, maximizing on Sanders' social media presence, coordinating with other chapters, and making phone calls on his behalf.
On Nov. 12, chapters across the country are schedule to take part in a Million Student March, a rally against student debt and for a $15 minimum wage.
"The idea is to get one million students across the country to get political and have our voices heard, bringing attention to the Bernie Sanders campaign," Austin said.
Like The College Fix on Facebook / Follow us on Twitter
IMAGE: Facebook screenshot