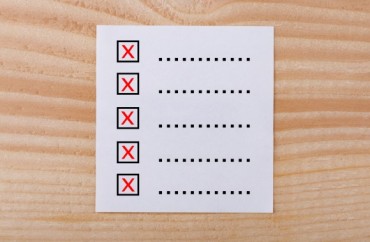 USC 'Consent Carnival' addresses sex ed in the age of affirmative consent

The old adage "a kiss is just a kiss" may not stand up to scrutiny anymore.
On Thursday, the University of Southern California's student government hosted a "Consent Carnival" that aimed to teach students how to properly hook-up under the "yes means yes" state law that requires so-called affirmative consent throughout any sexual encounter.
With that, a "Kissing Booth" at the event offered Hershey Kisses glued to little sheets of white paper that essentially explained how to properly kiss without committing sexual assault. The five-step checklist states on the front "what exactly does it mean to … 'consent' to a kiss?" and on the back states that "consent is":
Affirmative: We're really excited to share this kiss with you and we're letting you know!

Coherent: We're present and able to recognize exactly what's happening when we give this kiss to you. 

Willing: We made the decision to give you this kiss ourselves, without pressure or manipulation from you or anybody else.

Ongoing: Should you come back for another kiss, check in to see if we'd still like to give you one.

Mutual: Sure, we offered you a kiss, but that doesn't mean you have to accept it. Coming over to our table doesn't forfeit your right to say no.
RELATED: Legally mandated 'yes means yes' sex standard affirmatively baffles NYU students (VIDEO)
With increasing talk about sexual assault on college campuses, the Queer and Ally Student Assembly in conjunction with the Women's Student Assembly at USC organized the event, which included carnival games, food and prizes in its attempt to bring awareness to the idea of sexual consent.
Terms such as transgender, autonomy and pansexual were defined as part of various games meant to teach students about sexuality as well.
According to the USC Sexual Assault Resource Center, consent "requires positive cooperation, and must be unambiguous," as well as affirmative, free and voluntary. It is also required before engagement in any sexual activity.
Carnival volunteer Denise Ross, a student at USC, said she hopes that through the carnival "folks will have a basic knowledge of different identities and that they will have ownership of their own bodies, and others will have respect for that."
But not all students agreed the carnival hit its mark.
Freshman student Quinn Blades told The College Fix in an interview that the idea of a "Consent Carnival" was "a little odd, and it seemed like they were trying to make fun out of this very serious topic."
Other students said they believed the Consent Carnival did not address a key issue: hooking up while drunk.
"I was surprised that they did not talk about alcohol at all, because it is definitely a major cause of many sexual assault cases," student Caroline Westchester told The College Fix. "I think a lot of people don't want to bring it up because that would be blaming the victim, but I think it's important to acknowledge."
Under the California "yes means yes" law, a person who is incapacitated by drugs or alcohol cannot give consent.
Student Katie Hardin said she believes funding on sexual assault issues would be better spent on resources for students directly impacted by such occurrences instead of "events that many people would find uncomfortable and not want to attend."
Funding for this event was provided by the student government at the private, Southern California school and supported by on-campus groups, including USC Residential Education.
Organizers stressed that all information about sexual assault and consent is available to the students on the USC Sexual Assault Resource Center website and there are many counselors available for those who believe they have been sexually assaulted.
RELATED: Sex partner must say 'yes' every 10 minutes or it's rape, 10th graders taught in California
Like The College Fix on Facebook / Follow us on Twitter
IMAGE: Shutterstock
Like The College Fix on Facebook / Follow us on Twitter