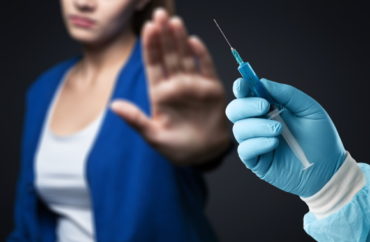 College students are taking a stand against the growing tide of universities mandating COVID boosters to be considered fully vaccinated.
At George Mason University, for example, well over 700 people have signed a "Repeal George Mason University's Vaccine Booster Mandate" petition, launched by student Robert Fellner.
"I will not be complying with their demand to get a third shot of the Covid vaccine within 45 days," Fellner said in a recent email to The College Fix.
Fellner, a law student at George Mason University, said he delivered the petition to the administration and "they responded by saying the booster is needed to slow the spread."
"It is important to note that not even the CDC claims vaccines can stop transmission anymore," Fellner said, citing the CDC website which states: "Current vaccines are expected to protect against severe illness, hospitalizations, and deaths due to infection with the Omicron variant."
"So it's no longer about competing studies over efficacy, it's just universities making claims without any support, that we all know to be false," Fellner said. "Seems like there should be a much higher bar than that before we forfeit our fundamental rights to bodily autonomy."
At Cornell University, nearly 1,000 students, parents, educators and alumni have signed an open letter against the booster mandate.
"Mounting evidence points to serious risks from exposure to the Covid-19 vaccines. The latest scientific research shows that Covid-19 vaccine side effects such as myocarditis, thrombosis with thrombocytopenia syndrome, and pericarditis are more common in young people than we think," the letter states.
"… Why force such risks on our students when the rate of severe Covid-19 illness in the 16 to 40 year age group is exceedingly low?"
Students at the University of Chicago have also joined the fight.
A petition was launched by the Chicago Thinker center-right student newspaper, which stated in announcing the petition: "We are not lab rats! And we are calling on all of our readers to join us in demanding an end to this mandate."
Nearly 300 people have signed the petition as of Tuesday night. It states in part:
Despite the lack of transparency, and the booster's observed and potential adverse health effects, UChicago forces its students and employees to accept its cost-benefit analysis: that the booster is "preferable" to the risk of contracting COVID while unboosted. In so doing, our anti-science university unsafely denies us the right to evaluate the cost-benefit analysis for ourselves.
On the West Coast, over 1,600 people have signed a petition against Stanford University's booster mandate, which takes effect at the end of the month, reported the Greeley Tribune, adding it was recently launched by Stanford PhD candidate Monte Fischer.
"We are not anti-booster or anti-vaccination," Fischer reportedly wrote as part of the petition. "We are advocates of physical autonomy and the rights of Stanford students to evaluate data and make their own medical choices."
And while the Stanford petition garnered 1,600-plus signatures, a petition focused on a small private Franciscan liberal arts college in New York boasts 2,035 signatures to date.
"Sign To Have Siena College Change the Booster Requirement to Optional" includes a signature by one student who stated in signing: "I couldn't finish my education here because of their policy. I hope that one day they'll realize how much they hurt some of these students with their decisions."
MORE: Growing number of universities require students get COVID booster shot
IMAGE: Billion Photos / Shutterstock
Like The College Fix on Facebook / Follow us on Twitter