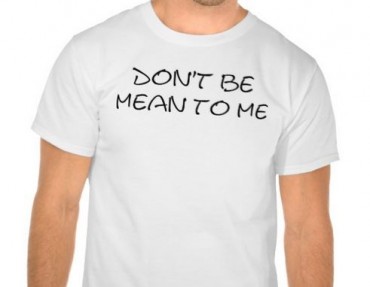 If someone says anything mean-spirited at the University of Colorado Boulder – campus administrators want to know about it. Not only that – they want to know the offender's name, age, email address and more.
University of Colorado-Boulder has launched a new campaign encouraging students to report any "bias" they come across to campus authorities, who collect details including offenders' names, birthdays, genders – even social security numbers – along with a description of the "incident."
The "Bias Incident Reporting" effort aims to "address the impact of demeaning and hurtful statements as well as acts of intolerance directed towards protected classes," CU Boulder's website states.
Examples of bias, according to a corresponding poster campaign highlighting the reporting system, include calling people names or making fun of their culture.
"This in no way is meant to curtail free speech," campus spokesman Ryan Huff told The College Fix in an email. "We support the First Amendment and want our students to challenge one another in academic ways. We don't support, however, the use of racial slurs and other demeaning bias-motivated acts."
Students who perceive or witness "bias-motivated incidents" are asked to report them immediately by filing a "student of concern" report.
The online submission form prompts students for the name, birthday, gender, phone number, and e-mail of any involved person. The form gives the reporter space to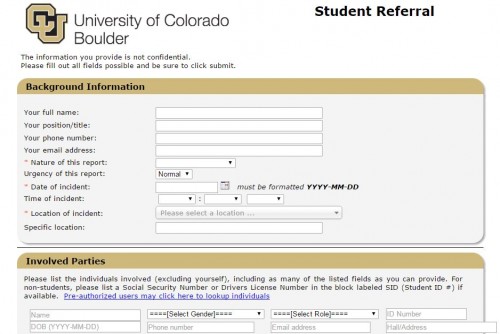 provide the ID number of students implicated in the incident. However, should those involved not be students, drivers' license numbers or social security numbers are suggested substitutes.
The reporting effort is designed to "ensure timely and appropriate responses to incidents that appear to be bias-motivated involving University of Colorado students," the university's website states. Bias reports are not treated as confidential, it adds.
The diversity commission of CU Boulder's student government launched the Bias Motivated Incident poster campaign in late April, marked by a slew of posters hung up around campus.
One poster reads, "Go back to Africa, you don't belong here." Another says, "Your mom must be the janitor 'cause that's the only job for dirty Mexicans." The student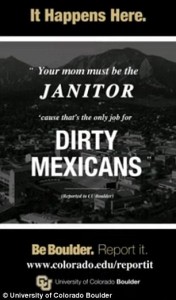 government claims both statements, along with others used on various posters, originated from real incidents of bias that have occurred on campus.
"The purpose behind the campaign is two-fold," student government officials stated on their Facebook page. "One of the objectives is to encourage and inform students to report bias motivated incidents on our campus and the surrounding community. The other purpose of this campaign is to highlight the fact that indeed BMI's [Bias-Motivated Incidents] happen here on our very own campus and that we are not immune to acts of racism, sexism and overall discrimination toward people's identities."
But the posters have been met with a lot of resistance. Fox News-Denver reports that of the 400 to 500 posters originally hung around campus, several have since been torn down. The Boulder Daily Camera notes many students and scholars are highly offended by the poster campaign.
The campaign continues unhindered, however.
In a statement, Chancellor Philip DeStefano remarked: "What ought to offend here is not the language on the posters, but the language that is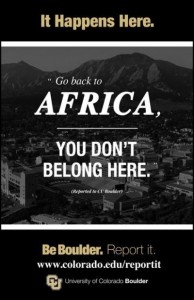 used in perpetuating acts of racism, ethnic intimidation, homophobia and other acts of bias in our campus community."
Though the list of information relayed through the online submission process is lengthy and detailed, campus authorities insist that the campaign is by no means disciplinary.
Chancellor DeStefano maintains that those behind the campaign only "want to track the frequency of violent and non-violent BMI's to be able to respond to victims with support, as well as gain an accurate sense of the disruptive actions and attitudes that affect our campus climate so that we can refine strategies to improve that climate."
Magnolia Landa-Posas, director of diversity and inclusion for the CU Student Government, told the Daily Camera the students hope that by encouraging more reporting, they can gather more data and roll out an "action-oriented" campaign as early as next fall.
Huff told The College Fix that $546 in total was spent on the production of posters – only a fraction of the university's $1.3 billion budget. As the semester rolls to a close, it remains to be seen whether the Bias Motivated Incident campaign will prove a beneficial use of university resources, and whether student attitude toward the campaign will warm.
Student government representatives did not respond to requests by The College Fix for comment.
Like The College Fix on Facebook / Follow us on Twitter
Like The College Fix on Facebook / Follow us on Twitter